There was a really great item in the news in early September about President Obama. While on a trip to Alaska, he joined some young Alaskan native children in a ceremonial dance. We wanted to post the article to our social media because he was practicing what I preach in my training - if invited, attend and if asked, participate in cultural events. It's not about whether or not you know the dance or the song - you aren't expected to - it's about honouring the honour of being invited.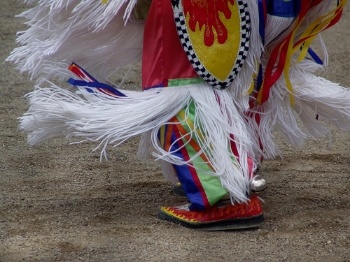 It was a great gesture of respect to see the president of the United States dancing with the kids. He also had a powerful message for them "The young people here especially, I'm very proud of you. Keep up your traditions even as you go out into the big world, and learn and bring back the knowledge that's going to help to build this community," Obama added. "We're very, very proud of all of you."
The media conversation caught our attention. When we went on the internet to get the link to the story so we could share it we were surprised to see how many of the major news outlets described the children as wearing:
"colorful garb and headpieces"
"dressed in colorful native clothing"
"native headpieces and attire"
and more than one article made reference to him "shaking his tail feather".
We realized that there is a dearth of knowledge in the media, and probably in the society in general, about how to correctly refer to articles of ceremonial wear. It showed a lack of respect and interest - the journalists did not research and find the right term. I wonder if, when writing about the Pope, journalists refer to his papal regalia and insignia as "colorful garb and headpiece".
We use the term "regalia" - but is there a more appropriate term?
What term do you use to describe ceremonial wear?
While we may not be 100% certain we are using the right term, we are 100% certain that the wrong term is "costume". There have been some infamous "fails" by fashion designers and celebrities who wear regalia on runways and at Hallowe'en. This is called cultural appropriation. On occasion, these designers and the odd celebrity have been called out on social media and publicly shamed.
If you are interested in more terminology, download a free copy of our "Aboriginal Peoples: A Guide to Terminology"