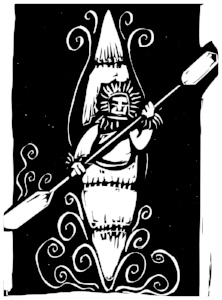 "In Inuit tradition, a child is not considered to be a complete person until they receive an atiq or "soulname," usually given at birth. The construction of a subject's identity therefore is a complex process involving the historical customs of "naming," kinship practices, as well as spiritual beliefs. The subject's identity is thus composed of multiple layers, as the following narrative suggests:
No child is only a child. If I give my grandfather's atiq to my baby daughter, she is my grandfather. I will call her ataatassiaq, grandfather. She is entitled to call me grandson." [1]
A note on terminology: In this article we use the term "Eskimo" as it is historically accurate for the subject "Eskimo identification tags". Eskimo is considered derogatory in Canada but is still in use in Alaska. In Canada the preference is Inuit.
Read More