Guest contributor: Moccasin Identifier Team
Initiated, designed, and led by Carolyn King and the Mississaugas of the Credit First Nation, the Moccasin Identifier is a teaching tool and public awareness-building program for Treaty relationships between Indigenous and Non- Indigenous Canadians.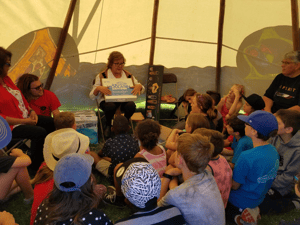 Since 2011, the Moccasin Identifier has grown from the grassroots, visiting schools and universities and participating in public events and workshops. Large public installations of the Moccasin Identifier are permanently installed at Ontario Place's Trillium Waterfront Park, the City of Oakville's 16-Mile Creek Park and on the Centennial College campus in Scarborough. The Moccasin Identifier artwork is also on permanent display at Hamilton Health Sciences' hospital sites.
"These large-scale versions are dramatic and help remind the general public of Indigenous presence on these lands," King said. "Treaty teachings are important for all ages."
The Moccasin Identifier education kit contains teaching lessons for children in grades 1-8 about Treaties and Treaty relationships. In the fall of 2019, the education kit was piloted across the Greenbelt. After the pilot was evaluated, the educational curriculum was adapted, refined and launched this week for free online at www.moccasinidentifier.com.
The Moccasin Identifier stenciling kit, also available online, includes stencils based on drawings of historical moccasins of the Haudenosaunee, Anishinaabe, Huron-Wendat and Cree. The original moccasins are in Toronto's Bata Shoe Museum, where early research for the program was conducted by artist Philip Cote. The stencils are used to create temporary or permanent paintings of the moccasin designs. The intention is that children ground their learning through an art-based activity to reinforce the teachings.
Over the last two years the Moccasin Identifier has reached exciting new milestones thanks in large part to the support of the Greenbelt Foundation. These milestones include launching an official website, creating social media accounts, hosting a comprehensive pilot program, the development and launch of new free online education curriculum, and the upcoming launch of kit sales which include the moccasin stencils.
"We need to create better understanding of treaties and territories or the knowledge will be lost forever," King, a former chief, says. "We use the moccasin as the symbol that identifies us and connects us to the land."
The vision of the Moccasin Identifier is to cover Canada in moccasins. Our goal is to expand the program to the rest of Ontario over the next few years and then from there across Canada.
Please connect with us, follow us on social media, check out our teachings, and buy a kit so we can honour our Treaties together!
T: @MoccasinIdenti1
I: @moccasinidentifier
F: https://www.facebook.com/moccasinidentifierproject