Orange shirt day is a movement that officially began in 2013 but in reality it began in 1973 when six year old Phyllis Webstad entered the St. Joseph Mission Residential School, outside of Williams Lake, BC. Young Phyllis was wearing a brand new orange shirt for her first day of school – new clothes being a rare and wonderful thing for a First Nation girl growing up in her grandmother's care - but the Mission Oblates quickly stripped her of her new shirt and replaced it with the school's institutional uniform.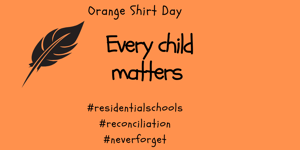 While she only attended for one year the impact affected Ms. Webstad's life for many years. "I finally get it, that feeling of worthlessness and insignificance, ingrained in me from my first day at the mission, affected the way I lived my life for many years. Even now, when I know nothing could be further than the truth, I still sometimes feel that I don't matter." [1]
Ms. Webstad's story is the nucleus for what has become a national movement to recognize the experience of survivors of Indian residential schools, honour them, and show a collective commitment to ensure that every child matters. The initiative calls for every Canadian to wear an orange shirt on September 30 in the spirit of healing and reconciliation.
The date, September 30, was chosen because that was the time of the year the trucks and buses would enter the communities to "collect" the children and deliver them to their harsh new reality of cultural assimilation, mental, sexual and physical abuse, shame and deprivation.
Indian residential schools operated across Canada between 1831 and 1996. In its comprehensive report in June 2015 on the residential school policy, the Truth and Reconciliation Commission of Canada declares "establishment and operation of residential schools were a central element of this policy, which can best be described as "cultural genocide."" [emphasis added]
The earliest recognized and longest running residential school was the Mohawk Institute in Brantford, Ontario (1831 – 1962). The last federally run residential school to close was Gordon's School in Punnichy, Saskatchewan, which closed in 1996 and subsequently decommissioned. Here's an article on the decommissioning of St. Michael's Indian Residential School in early 2015.
During the residential school era it is estimated that:
150,000 children attended these schools
Over 6,000 died while attending these schools (based on partial federal government records)
Approximately 80,000 survivors of these schools are alive today
The impact of residential schools affects every Canadian – what can you do to show your support and recognition? Here are some suggestions:
Purchase an "Every child matters" tshirt for yourself, your family, your co-workers;
"Plan a school event:
It is suggested that a planning committee be established, as early as possible in the year, and that local First Nations be included on the committee.
Ideas for school activities:
1. Watch the Shaw video of Phyllis's story.
2. Discussion around "Every Child Matters."
3. Simple activities, eg. Children trace their hand, then write in the hand something they can do to help others feel like they matter.
Plan a community event:
Sample agenda for community ceremony (Include local First Nations protocol)
Welcome to traditional territory by Chief

Opening prayer and drumming

Greetings from federal and/or provincial government officials

Welcome by Mayor and/or other local government representative, School Board

Residential school survivor or family member speaking about residential school

Entertainment and/or children's activity." [2]
Sadly, Canadians are only just learning the details of this brutal and horrifying part of Canada's history. Astonishing as that is, what is equally astonishing, and what needs to be recognized and celebrated, is the resilience and bravery of the survivors and their families. Survivors are turning to their cultural roots, reviving traditions, languages, and finding strength in family and community to heal. This resiliency is what needs to be supported and celebrated because this is the path to reconciliation and a better future for all Canadians.
If you are a teacher of primary students, here's a list of age appropriate books on residential schools.
[2] ibid
Committed to reconciliation? This Pledge is for you! Download your free copy by clicking the image. Please share with peers & pals.