For some First Nation people, inherent rights are rights bestowed upon them by the Creator who placed them on Turtle Island and provided them with instruction on how to live. While not all creation stories are the same they all share this theme. The Creator's instruction formed the basis of the traditional knowledge, culture, traditions and oral traditions that have directed First Nations ever since. Therefore, First Nation inherent rights are not granted by the Crown and attempts to insinuate otherwise will be met with arguments of assimilation.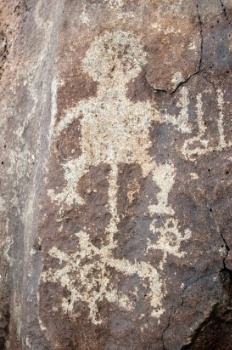 As each Nation is a unique cultural entity, a specific definition of what those rights are does not exist but commonly include right to self-government, rights to the land, and right to practice their own culture and customs.
Inherent rights are distinct and separate from the rights of non-First Nation people and are protected under Section 25 of the Canadian Charter of Human Rights.
"The guarantee in this Charter of certain rights and freedoms shall not be construed so as to abrogate or derogate from any Aboriginal, treaty or other rights or freedoms that pertain to the Aboriginal peoples of Canada including

any rights or freedoms that have been recognized by the Royal Proclamation of October 7, 1763; and
any rights or freedoms that now exist by way of land claims agreements or may be so acquired.

Section 25 makes it clear that other rights contained in the Charter must not interfere with the rights of Aboriginal peoples. For example, where Aboriginal peoples are entitled to special benefits under treaties, other persons who do not enjoy those benefits cannot argue that they have been denied the right to be treated equally under section 15 of the Charter.

In addition to section 25 of the Charter, section 35 of the Constitution Act, 1982 states that the existing Aboriginal and treaty rights of the Aboriginal peoples of Canada are recognized and affirmed. The Supreme Court of Canada has ruled that section 35 means that Aboriginal rights under treaties or other laws are now protected under the Constitution Act, 1982." [1]
In terms of the proof for First Nation inherent rights, the Supreme Court of Canada has held that claimants must demonstrate that the right was integral to their distinctive society and was exercised prior to and continuously up to first contact with Europeans.
So, when you are working with communities, it's a good idea to be cognizant of the depth and extent of the term "inherent rights".
What do you think? Did we miss anything or do you have something to. Leave it in the comments section below.
[1] Canadian Charter of Human Rights
Here's a free eBook you can download. Click the book cover icon to download your free copy.