Many thanks to Gracious First Nation Host Communities from Julie Domvile.
I recently had the extreme honour and privilege of participating in Tribal Journeys 2014 as part of the Malahat Nation and Kw'umut Lelum Family Services canoe family. Tribal Journeys has to be one of the west coast's best kept secrets - an estimated 100 canoes, over 1,000 pullers from all over the Pacific Northwest paddling to Bella Bella for the five day Qatuwas festival, hosted by the Heiltsuk First Nation. For some canoe families it is a 20 day journey. The leg I was on was from Brown's Bay, just north of Campbell River, to Bella Bella.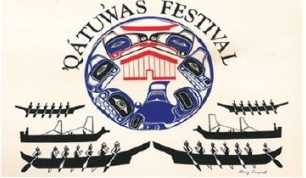 As someone who is not of First Nation heritage, I was overwhelmed by the gracious generosity of the hosting communities - some of which are very small with limited resources. When I expressed my amazement to my fellow First Nation canoe family members, they expressed amazement at my amazement. It is just the way things are done. The hosting communities want to show their support for the pullers and their commitment to working with youth to connect them with their canoe cultural heritage.
I would particularly like to thank the community of Fort Rupert. While the community was prepared to provide one dinner and one breakfast for hundreds of pullers they did not anticipate the weather keeping us all there for three days. We were like a plague of locusts; the guests that just wouldn't leave. The community hall hosted dinners and breakfasts and individual families opened their homes so we could do laundry and take showers. There was never a feeling of overstaying one's welcome. At one point, the departure time was set for 3:00 am in order to be on the water prior to the winds coming up; the volunteers were in the hall at 1:30 am to prepare breakfast for us, and pack us each a snack bag to keep our strength up through the next leg of the journey - an unexpected, and much appreciated extra effort that touched the hearts of all.

A heartfelt "thank you" to all the communities along the route who shared what they have with the canoe families on Tribal Journeys 2014.
If you have experienced the gracious and unselfish hospitality of First Nations, please share with us - we would love to hear about it.
Click here for our free download "27 Tips on Working Effectively with Aboriginal Peoples"