Northern British Columbia is an area often overlooked as a business opportunity Mecca but to Ramona Materi, President, Ingenia Consulting, it is rich with possibilities. So, she decided to write a "how to do business" guidebook. British Columbia's New North: How to Build Your Business, Respect Communities--and Prosper is for national and international investors, global contractors as well as "mom and pop" business owners who want to set up shop in the region. The information is practical, targeted and insightful into economy, gaps in the economy (both existing and pending) and tips from residents on living in this vibrant region.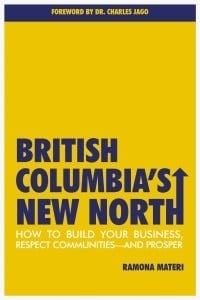 While the book addresses a very comprehensive overview of what investors and business owners need to know, for the purpose of this blog, we will focus on the information provided in terms of doing business with Indigenous communities in northern BC.
Why is it important that businesses know the history of Indigenous Peoples in this region?
If you look at the population of the North, in some areas roughly one-third is Indigenous (in Northwest BC it is one third; in the Northeast it's more like 15%). So, that means one-third of your potential customers and employees are Indigenous and if you combine that with the expanse of the traditional territories, it really underscores the need for an investor or business owner to know his/her history.
While this is not an in-depth history book, it does include information about the significance of the Indigenous trading routes and the influx of European traders via land to the northeast and via sea to the northwest. We also talk about treaties or lack thereof in BC and what that means to an investor, key legal victories for Indigenous communities, the impact of residential schools, and the Truth and Reconciliation Commission. Again, it's not a history book but we wanted to provide information that someone from off-shore would not necessarily know but should know if they want to work in northern BC. We want to correct the impression that the North is empty, and inform the business community that it is so much more than rocks and trees.
What do investors need to know in terms of the Indigenous business community?
In the chapter "Doing Business with Aboriginal Peoples today" we provide examples of the types of businesses the various communities are engaged in; we also include information on the Indigenous private sector. This chapter also includes practical information on how to engage with the communities for business-to-business or business-to-consumer enterprises.
How did you do your research for a book that includes practical information on so many topics?
We all have our areas of expertise and in researching this book I reached out to experts in specific areas that were outside my domain. I did over 100 interviews for input and also invited some experts to contribute. For example, on engaging with communities it was recommended to me that I reach out to Bob Joseph. He provided 27 tips for the Working Effectively with Aboriginal Peoples section. For the section on training and retaining Indigenous workers, Sandra Sutter provided Your Next Best Sustainable Natural Resource: the Aboriginal Workforce.
From your research and interviews for this book, what tips do you have for businesses that want to work with Indigenous communities in northern BC?
If your firm has never worked with Indigenous Peoples anywhere, do your due diligence. Know the basic history. In terms of northern BC, inform yourself about things such as the lack of treaties and how that impacts your business - understand the socio-economic context of the region. Some suggestions for research:
For secondary research I also recommend Bob's course and blog for an overall background towards understanding the impacts and issues.
Follow media outlets such as CBC Aboriginal that cover Indigenous news. Nation Talk offers a daily roundup of news from the mainstream and Indigenous media.
Attend Indigenous business development fairs, conferences that encourage partnerships between Indigenous and non-Indigenous businesses; check out some of the Indigenous business associations and councils, such as the Canadian Council for Aboriginal Business.
Understand the economic history and business experience of the community you want to work with. Don't assume they are "babes in the woods" in terms of business acumen.
Recognize that while there may be some commonalities between communities they each have different histories; develop a unique approach for each community.
Have a sense of humour.
---
---
We are pleased to have contributed to Ramona's book with some tips on doing business with Indigenous communities. We welcome opportunities to have our content shared in books, blogs newsletters, website, and recommended reading for students. If you would like to use our material, please contact us for acknowledgement criteria.