Definition: Cultural appropriation is the adoption of elements of one culture by members of a different cultural group, specifically the use by cultural outsiders of a minority, oppressed culture's symbols or other cultural elements. Wikipedia
It's that season again……….you know, the time of year in which people feel compelled and justified to slip into culturally inappropriate clothing and party down; or worse, slip their children into culturally inappropriate clothing and send them out door to door.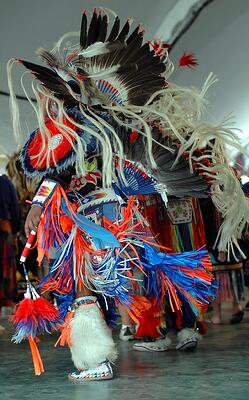 This is a photo of a dancer, proudly wearing his regalia (NOT costume) as he performs at a pow wow.
Why is it wrong to wear a costume that mimics aspects of Indigenous culture?
Because:
It turns Indigenous culture into a fantasy

It denigrates Indigenous culture

It insults Indigenous traditions

It objectifies Indigenous culture and turns it into a commodity

It enhances and promotes the stereotypical perception of Indigenous people

Pocahontas costumes oversexualize Indigenous women

It furthers the colonialism attitude that everything - including Indigenous culture - belongs to the colonizer
But sadly this is not just a once a year phenomenon - it is just more prevalent at Hallowe'en. Cultural regalia is sported by fashionistas on runways, on magazines, and at music festivals. In 2014, Elle UK, drew heat for a cover showing the musician Pharrell in a feathered headdress. Despite big name celebrities being called out regularly in the media for cultural appropriation, it keeps happening.
Fashion's Year in Cultural Don'ts

The disturbing trend of music festival goers wearing feathered headdresses has finally met some opposition. In 2014, the Bass Coast Festival, which takes place in Merritt, BC, banned attendees from wearing feathered headdress. Organizers made this Facebook post:
"Bass Coast Festival takes place on indigenous land and we respect the dignity of aboriginal people. We have consulted with aboriginal people in British Columbia on this issue and we feel our policy aligns with their views and wishes regarding the subject. Their opinion is what matters to us."
Glastonbury, the most famous music festival in the UK, has agreed to restrict the sale of "Indian headdresses" at their 2015 event; not an outright ban though. On the festival's website, "Indian headdresses" are listed along with cigarettes, candle flares and flags that are not to be sold onsite.
This radical shift was driven by an online petition:
"A concerning trend has become increasingly prevalent over the past few years at Glastonbury and other music festivals – that of the wearing of Native American-style headdresses. This summer in particular, I noticed far more festival-goers wearing the headdress as an item of fashion than at previous events - hence this petition. [N.B. before setting up this petition, I tried to contact the festival office and organizers - to no avail.]
There has long been consensus among indigenous civil rights activists in North America about the wearing of headdresses by non-Natives – that it is an offensive and disrespectful form of cultural appropriation, that it homogenizes diverse Indigenous Peoples, and that it perpetuates damaging, archaic and racist stereotypes."
And then there is the longstanding controversy in the United States over the use of "Redskins" as in the Washington Redskins. In 2020, after corporate sponsors, including FedEx, who have the naming rights to the team's stadium, applied pressure and other brands such as Nike and Amazon removed the team's merchandise from their online stores, the team's owner and coach decided to retire the name and logo and rebrand as the Washington Football Team. The Cleveland Indians, retired their mascot "Chief Wahoo" in 2019 and have modified their jerseys to just say "Cleveland." Sports teams in Canada are renaming and rebranding.
Consider sharing this article with your friends and colleagues so they understand why it's important to choose costumes that are not demeaning to another culture.
What do you do when you see someone you know at a party and they are wearing a culturally inappropriate costume? Is it worth your time to say something?
Here's an article on Indigenous vs. Aboriginal.
This free eBook dispels 9 common myths about Indigenous Peoples. Click the image to grab your copy.