The story of how a hotel, art gallery and social housing organization established a sustainable cycle of positive social impact
The planets definitely were aligned in 2012 when Jon Zwickel, President of InnVentures Hospitality Corp. and two friends from New York, dropped by the newly opened Swkachàys Lodge and Gallery looking for Aboriginal art. The warmth and welcoming atmosphere of the Gallery caused him to pause and strike up a conversation with David Eddy, CEO, Vancouver Native Housing Society (VNHS), which owns the Lodge. That meeting launched what was to become Canada's first Aboriginal art boutique hotel – but it is so much more than a boutique hotel.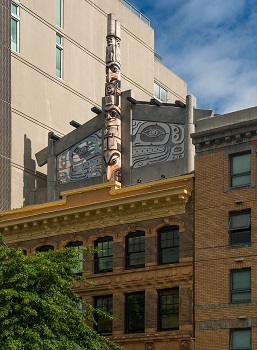 The original concept of the Swkachàys Lodge and Gallery was twofold - provide housing for 24 artists-in-residence and provide a healing lodge and place of comfort for Aboriginal families forced to travel to Vancouver for medical purposes. Profits from Gallery and hotel would subsidize the housing of the artists –a Social Enterprise model that funds supportive housing.
A later meeting with Jon Zwickel took the concept to the next level – a semi-retired hotelier, he envisioned a boutique art hotel similar to the Gladstone in Toronto but with the distinction of being an Aboriginal art boutique hotel. The same Social Enterprise model would apply but giving the hotel /lodge a marketing niche for the socially conscious traveler – every dollar a guest spends on their room goes towards social housing of Aboriginal artists and every dollar spent in the Gallery supports authentic Aboriginal art and ensures Aboriginal artists are fairly paid for their craft.
"I was very interested in his vision and his offer to do the work pro bono – it was his very generous way of giving back. He called me a few months after our meeting to say he had six, world renowned design firms who would also provide their time pro bono. He wanted me to find six Aboriginal artists to work with the design firms. We had six designers, six artists and 18 hotel rooms so each team designed three rooms each. The rooms were designed on the themes of the Aboriginal artists," says Eddy. The artists invited to work on the project reflected Vancouver's urban Aboriginal community – they are from the coast and interior of BC, from the prairies and the north.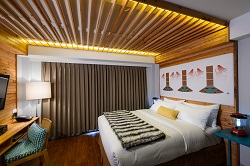 The new façade of the former Pender Hotel is a unique architectural collaboration that melds Victorian and Aboriginal heritage, and features a 40' totem pole. The three story building incorporates 24 low cost units for Aboriginal artists, 18 rooms for hotel guests, an art gallery and Kayachtn or welcoming room on the ground level, and below ground is workshop space for the artists.
Hotel amenities support Aboriginal businesses - in-room coffee is from Spirit Bear, a company which donates a percentage of its profits to the Great Bear Conservancy (home of the Spirit Bear) and works with the Tsimshian Nation, and toiletries come from the Aboriginal-owned Mother Earth Essentials, from county of Lac. St. Anne, Alberta.
The Social Enterprise model has not yet been repeated elsewhere in Canada but there's no reason it can't be, says Eddy. "It's a portable model that can work in any significant Canadian city with a large enough urban Aboriginal population - it can be recreated elsewhere.
When asked why the story of this Aboriginal boutique hotel has resonated far and wide (media from Korea and Australia and across North America have covered it) Eddy says, while he is not prone to new age thinking, he thinks it is serendipitous and almost spiritual occurrences that make it such a compelling story, starting with a soon-to-be-retired hotelier with a strong social conscience walking in off the street looking for Aboriginal art.
"For me I know I will never have another experience like this in my life – it has been a huge, creative action. Other people in other areas of the country might have that same feeling if it is done with authenticity from an ethical place and if it's done from a healing place," says Eddy.
Photo credit: photography by Craig Minielly at Aura Photographics
We have a number of free ebooks for download. Here's the link to our most popular ebook "23 Tips on What not so say or do when working effectively with Aboriginal Peoples"®