We received an inquiry from a reader asking us to explain the difference between specific claims and comprehensive claims.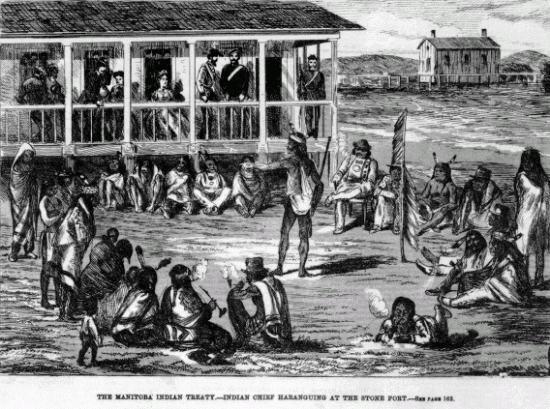 These claims are financial damage claims made by First Nations to deal with past grievances caused by the Government of Canada in its poor fulfillment of Indian treaty obligations or in its poor administration of land and other assets.
A comprehensive claim is a claim leading to the negotiation of a comprehensive land claim agreement, also known as a modern-day treaty. These claims exist where there were no previous land claim settlements and therefore Aboriginal rights and title exist and have not been addressed legally or in negotiations.
Indian treaty obligations have been created since the early 1700s by colonial governments and later after confederation in 1867 by the Canadian government. This administration of land and other assets issue has its genesis in the 1876 Indian Act which was passed, making the Crown responsible for managing reserve lands and certain monies belonging to First Nations. On occasion the Crown failed to fulfill its Indian treaty obligations or has mismanaged First Nation lands, funds or other assets. First Nations feel that this failure has caused them financial harm and are seeking remedy to have their legal rights respected and claims processes were established to address these types of claims.
These claims can be resolved in two different ways, the first way to find resolution is through the courts. Second is through negotiations. Currently, the Government of Canada wishes to resolve through negotiations and has a specific claims process with an accompanying action plan that was created to address specific claims.
Some quick facts:
Between 1993 and 2006 the number of outstanding claims doubled.
By 2007 the average processing time was 13 years.
In 2007 there were over 770 outstanding claims in Canada.
Approximately 44% of specific claims are in British Columbia.
There is a specific claims tribunal office.
British Columbia is unique because it utilizes both specific and comprehensive claims policy. It does so because BC started, but did not conclude, treaty making leaving large parts of the province without treaties, therefore requiring a comprehensive claims policy. After 1867 Canada also managed Indian Land or other assets under treaty in a way that caused some First Nations financial harm.
Ultimately, the settlement of specific and comprehensive claims will help Canadians come to terms with our history while bringing closure to longstanding grievances for First Nations.
For more terminology guidance, download our free "Guide to Terminology"