We are at an interesting juncture in Canada in terms of Indigenous relations. On the one hand there is an awakening and awareness on the part of mainstream Canadians, the media, and governments that is contributing to a landscape of reconciliation. This awareness and awakening is causing many to accept and reconcile, rather than hide from, uncomfortable truths about the history of Canada and how Indigenous Peoples have been treated. It is also generating calls by Indigenous and non-Indigenous Canadians for the removal of tributes to historical figures who were particularly ruthless in their treatment of Indigenous Peoples. On the other hand, there are some Canadians who struggle to make a name for themselves by clinging to and broadcasting their colonial ideals and beliefs. I don't want to give any airtime to the latter - they simply don't warrant any attention.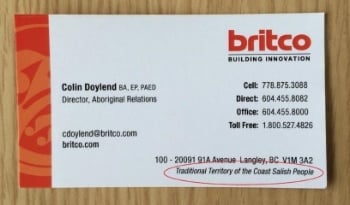 What I do want to focus on is the positive, on people who are making a difference, on organizations that are committing to the calls to action of the Truth and Reconciliation Commission of Canada.
For over twenty years now I have included information in my training sessions on why it's important to acknowledge whose traditional or treaty land you are on at the beginning of meetings, conferences etc. It is very exciting to hear how that simple gesture of respect is now being embraced in so many sectors in Canada. It is being done at the beginning of some sporting events, at the start of the day in many school districts, and at the public screenings at the Toronto International Film Festival:
"To begin, we would like to acknowledge the Mississaugas of New Credit, the Haudenosaunee and the Huron-Wendat, the original keepers of this land for hosting us today and for hosting TIFF on their land every day."
For that statement to be made to a national and international audience is a huge advancement in Indigenous relations in Canada, and it sends a positive message to international visitors.
There are other signs of this form of acknowledgment and respect being included in simple but powerful gestures. Here's an example I noticed this week that really provided a much needed antidote to the ignorance and spite of a member of the senate and her supporters. Page Two Strategies, a company I am working with on a couple of books, has this on their Contact Us page:
"We acknowledge that Vancouver is located on unceded Coast Salish territories."
The act of including that statement on the website is both encouraging and inspiring. Other ways to acknowledge whose territory you are on is to add it to your business card and include it in the signature block in your email. My hope is that by doing so we will inspire others to do the same and it eventually will encompass all who consider reconciliation an essential part of everyday life.
Here is a sample signature to get you started:
Bob Joseph
President Indigenous Corporate Training Inc.
Toll Free: 1 (888) 986-4055.
Sent from the traditional territory of the Kwikwetlem First Nation
I have gone with this version as the Kwikwetlem First Nation does not have a treaty. Had they had a treaty, I would have used the following version:
Sent from the treaty territory of the Kwikwetlem First Nation
You can see more about protocol acknowledgment here First Nation Protocol on Traditional Territory
I feel a groundswell of change happening in Canada and it's exciting. There are some who feel it's not changing fast enough and others who think the change is too much or shouldn't be happening at all. For the record, I'm here to support the readers, who like myself, feel that taking action, whether small or large, will send the signals of change required to change the world.
In the words of the late, great Martin Luther King Jr.:
"We must come to see that the end we seek is a society at peace with itself, a society that can live with its conscience."
Here's an article with some resources to help you with your research on whose traditional or treaty lands you are on.
If you are interested in learning more about Indigenous protocol and why it's important, consider taking one or more of our courses.
Click the image below to learn where our upcoming Training Weeks will be held.
Indigenous Corporate Training Inc., provides information on this blog for free as a resource for those seeking information about Indigenous Peoples in Canada. Readers looking for more detailed information, or who have questions, can sign up for our fee-for-service training. Also, ICT encourages everyone who reads this information to use their best judgment given their own circumstances, vulnerabilities, and needs, and to contact a consulting or legal professional if you have more specific questions. Join the conversation over on our Linkedin page.