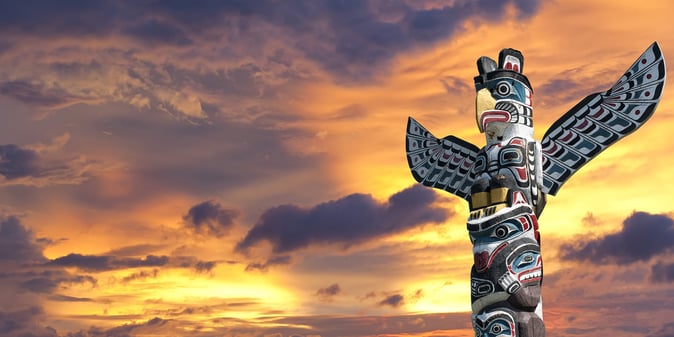 Every June 21st, thousands of Indigenous Peoples celebrate National Indigenous Peoples Day (NIPD). This is a special day to acknowledge the unique heritage, diverse cultures and outstanding achievements of First Nations, Inuit and Métis peoples in Canada. Joining in the celebrations is a wonderful way to learn more about Indigenous Peoples and cultures in your area.
In the northern hemisphere, the longest day and shortest night, the summer solstice, happens between June 20 and June 22. The summer solstice is of cultural significance for many cultures around the world. June 21st was chosen as the date for National Indigenous Peoples Day (formerly Aboriginal Peoples Day) in 1996.
"Many cities in Canada are less than a hundred years old. But aboriginal people have lived in this land for more than a hundred centuries. . .On June 21st, this year and every year, Canada will honour the native peoples who first brought humanity to this great land. And may the first peoples of our past always be full and proud partners in our future." Governor General Roméo LeBlanc
For some background on NIPD and how it came to be, please read:
Here are some suggestions on how to celebrate or commemorate this meaningful day.
Check out local listings of National Indigenous Peoples Day celebrations and plan to attend with family, friends, colleagues
Spend the day learning about the Indigenous history of where you live or work
Learn some greetings in the Indigenous language of where you live or work
Seek out an Indigenous restaurant or food truck
Seek out music by Indigenous musicians
Visit an art gallery that features Indigenous art
Read a book by an Indigenous author; we also have lots of free eBooks you can download
Watch a movie by an Indigenous director
Fill in our Personal or Professional Pledge of Reconciliation and discuss with family, friends and colleagues
Read and discuss the 10 Guiding Principles of Reconciliation from the Truth and Reconciliation Commission Report with family and colleagues:
The United Nations Declaration on the Rights of Indigenous Peoples is the framework for reconciliation at all levels and across all sectors of Canadian society.
First Nations, Inuit, and Métis peoples, as the original peoples of this country and as self-determining peoples, have Treaty, constitutional, and human rights that must be recognized and respected.
Reconciliation is a process of healing relationships that requires public truth sharing, apology, and commemoration that acknowledge and redress past harms.
Reconciliation requires constructive action on addressing the ongoing legacies of colonialism that have had destructive impacts on Aboriginal peoples' education, cultures and languages, health, child welfare, administration of justice, and economic opportunities and prosperity.
Reconciliation must create a more equitable and inclusive society by closing the gaps in social, health, and economic outcomes that exist between Aboriginal and non-Aboriginal Canadians.
All Canadians, as Treaty peoples, share responsibility for establishing and maintaining mutually respectful relationships.
The perspectives and understandings of Aboriginal Elders and Traditional Knowledge Keepers of the ethics, concepts, and practices of reconciliation are vital to long-term reconciliation.
Supporting Aboriginal peoples' cultural revitalization and integrating Indigenous knowledge systems, oral histories, laws, protocols, and connections to the land into the reconciliation process are essential.
Reconciliation requires political will, joint leadership, trust building, accountability, and transparency, as well as a substantial investment of resources.
Reconciliation requires sustained public education and dialogue, including youth engagement, about the history and legacy of residential schools, Treaties, and Aboriginal rights, as well as the historical and contemporary contributions of Aboriginal peoples to Canadian society.
We hope you find at least some of these suggestions helpful and that you enjoy celebrating and learning about Indigenous Peoples on June 21st every year.