James B. (Jamie) Wilson, B.A., U.S.T.C., M.Ed. is the Commissioner, Treaty Relations Commission of Manitoba
In an Opaskwayak Cree Nation family brimming with PhD holders, Jamie Wilson likes to refer to himself as the 'underachiever'. Yet, nothing could be further from the truth. Armed with a Masters degree in education administration, a fascinating military career as an elite Special Operations Ranger, and possessing a warrior spirit and a passion for education, Wilson is rapidly earning a reputation as one of Canada's brightest, new Aboriginal leaders with a pragmatic, get-things-done attitude.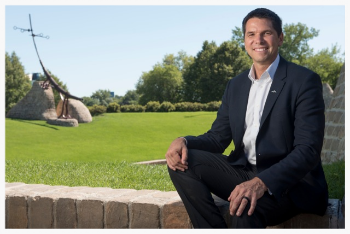 A person who moves with equal ease in both Aboriginal and non-Aboriginal communities, Wilson pushes himself both physically and mentally and doesn't easily settle for second best.
As an athlete, he doesn't just run, he's a triathlete and crossfit competitor. On ancestral lands, he is an award-winning environmentalist and survivalist who teaches the traditional ways of land navigation, and subsistence living.
But his greatest aspirations are in education where he fully intends to play a major role in paving a way out and up for aboriginal youth by doing nothing less than helping fix the current corrosion in First Nations Education.
Wilson initially got into education because it was a family tradition, with his parents and both siblings having earned PhD's. It didn't take long to realize that, one-on-one, he could make a huge difference in the lives of many students so he took up the challenge as a life-long mission.
He earned his B.A. at the University of Winnipeg and his M.Ed. Administration from the University of Manitoba. He also holds a U.S Multi-subject Teaching Credential from California State University in Sacramento and possesses K-12 teaching experience in public school, on-reserve and US charter school systems.
Upon joining the U.S. Army's Special Operations, he received the award of Distinguished Honour Graduate, after which he earned his US Jump Wings and British and Canadian Parachutist Wings. For athletic distinction, he was then placed on the 2nd Ranger Battalion Super Squad. Wilson was a member of Canada's National Age Group Triathlon team and received both provincial and national environmental awards for his outdoor education program at Joe A. Ross School on Opaskwayak Cree Nation. In 2008, he was selected as Citizen of the Year in The Pas, Manitoba and was honoured, in 2010, by the Manitoba Legislature for his outstanding accomplishments while Director of Education for the Opaskwayak Education Authority. That same year, the Government of Canada appointed Wilson as Commissioner of the Treaty Relations Commission of Manitoba, a neutral body mandated to encourage discussion, facilitate public understanding, and enhance mutual respect between all peoples in Manitoba.
Jamie also serves as an advisor for the Mayor's Indigenous Advisory Council and the University of Manitoba's President's Advisory Council. He is a board member for the Assiniboine Park Conservancy, the Winnipeg Football Club, and United Way Cabinet.
Jamie is also the recipient of the Queen's Diamond Jubilee medal for Community Service.
Wilson is a columnist for the Winnipeg Free Press and is regularly called upon by local and national media to comment on a wide range of First Nations issues. He is also a Traditionalist who has long advocated for the equality of women in ceremony and in leadership.
Jamie is married to Kristin Erickson and, together, they have three school-aged children.
Here's our Q & A with Jamie Wilson Commissioner Treaty Relations of Manitoba
Here's a free download Aboriginal Peoples: A Guide to Terminology