By Bronte Phillips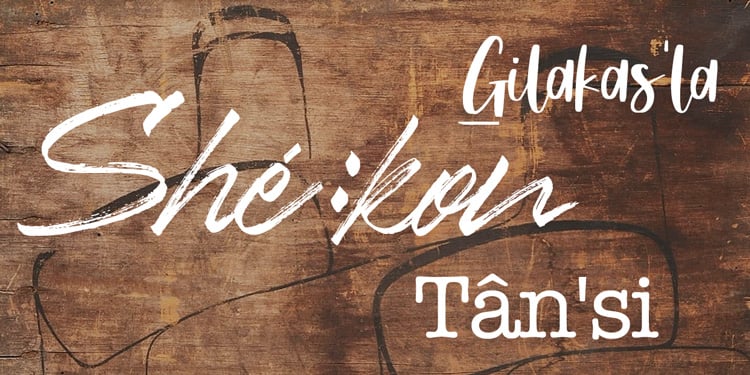 The United Nations has declared 2022-2032 as the International Decade of Indigenous Languages. Many Indigenous languages across the world are in critical danger of being extinct. The International Decade devoted to Indigenous Languages aims to ensure Indigenous Peoples' right to "preserve, revitalize and promote their languages." It also offers support and collaboration opportunities to help take necessary steps for the "usage, preservation, revitalization and promotion of Indigenous languages around the world." Having a decade dedicated to revitalizing Indigenous languages will mean having a global community of language-saving heroes, featuring worldwide events and activities to promote relevant language learning tools and resources. It will also mean giving others a platform to share, endorse their local language, and facilitate and encourage the learning of others.
The Truth and Reconciliation Commission of Canada (TRC) Final Report, December 2015, recognized the importance of Indigenous language by including Call to Action #13:
"We call upon the federal government to acknowledge that Aboriginal rights include Aboriginal language rights."
In June 2017 the federal government, in a joint statement with Indigenous leaders, confirmed that Aboriginal rights include Aboriginal language rights. This call to action is marked as "complete".
Though it has been marked as complete, in Canada there are close to 30,000 official place names that are of Indigenous origin. Reclaiming the names of these locations would mean changing their Anglicized names back to their original Indigenous names; returning them to their original name is an important part of the revitalization of Indigenous cultures and languages. If learning more about Indigenous history and cultures in Canada sounds appealing; consider taking our Indigenous Awareness course.
Many Indigenous Peoples did not have written language and relied upon instead on oral histories and conversations. Therefore, Indigenous names often represent more than just the language associated with that area, they can signify; culture and traditions, relationships to the land, contributions, travel routes, Elders' traditional knowledge, and hunting and fishing information. The depth and diversity of the names of the places were often marked by several words embodied into one word as the title and convey how Indigenous Peoples relate to the environment.
For example, Kapuskasing (Ontario) is a Cree word for "the place where the river bends." ​​Rimouski (Quebec) is from the Mi'kmaq or Maliseet language and signifies, "land of moose." Kamloops (British Columbia) is from the Salish dialect and means "where the rivers meet." If we head North, we will discover Iqaluit which is the Inuktitut word for "place of fish." The Indigenous name of a place is never just letters and sounds; it is the telling of a story or instructions at a time when maps weren't needed. The names represent worldviews that have been present since time immemorial.
Everyone can contribute to this work by learning Indigenous place names and taking the time to learn how to pronounce Indigenous people and place names.
While it may be tricky at first, it is acceptable to ask for aid and to try many times before you get it right! You may even be using Indigenous names already when you talk about; Saskatchewan, Athabasca, Okotoks, Shaganappi, Wabamun, Wetaskiwin, Akimina, Coquihalla, Comox, Kalamalka, Kitimat, Penticton, Sicamous, Winnipeg, Nunavut, or Muskoka.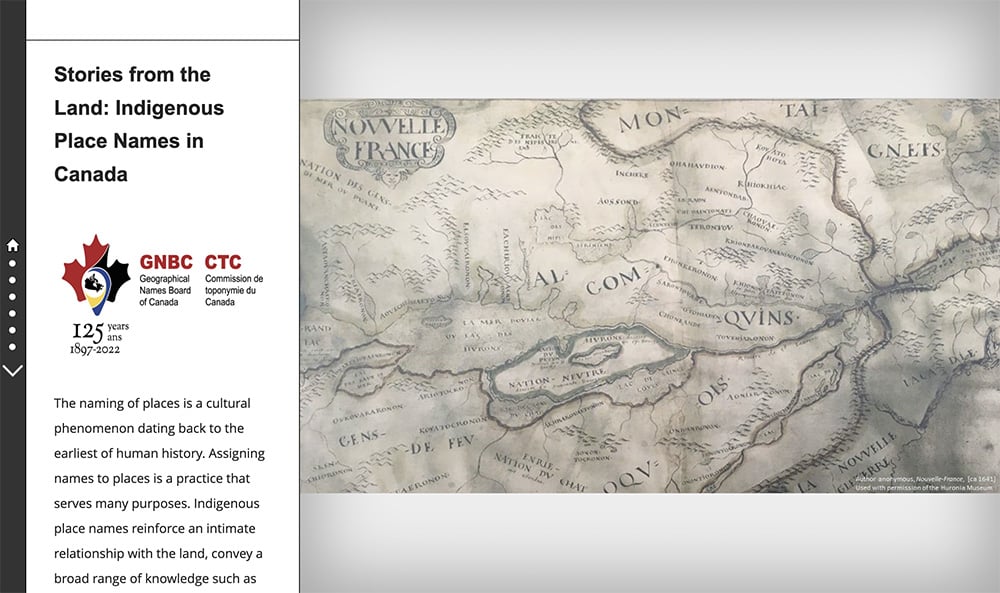 The Geographical Names Board of Canada recently released a comprehensive map, titled "Stories from the Land" which provides viewers with an interactive map that includes the language family, pronunciation, dialect, year, and meaning of places that have Indigenous names. You can view it and familiarize yourself with it here as you learn and help support the revitalization of Indigenous languages.
Organizations such as SILR (Supporting Indigenous language Revitalization) are building capacity for community-led Indigenous language revitalization in Canada. In recognizing the role that post-secondary education has played and continues to play in language revitalization, SILR offers events through campus-led initiatives such as lessons, learning circles, and language tutors these are public and free of charge. SILR also recognizes the need to teach others how to teach Indigenous languages. After attending a session it was emphasized that in order to teach an Indigenous language - you do not have to be fluent in it but instead possess a hunger to learn more. SILR'S website offers several options for learning languages that are available to both Indigenous Peoples and non-Indigenous. Another good resource is the First Voices website (www.firstvoices.com/home) program which provides samples of a variety of Indigenous languages in written and oral options.
If you are not quite ready to learn an Indigenous language, consider supporting those who are actively learning or organizations like Nalawakw; an example of cultural survival in action. You can support those who are actively learning by ensuring that they have the proper resources available to them including; cultural awareness training courses such as; Working Effectively With Indigenous Peoples©, Indigenous Relations, and Technology to access Apps, games, books, podcasts, and dictionaries or through the support of a local language centre. At the very least, learn how to say hello or goodbye in a local Indigenous language.
Kîhtwâm Ó:nen ki' wáhi ha̱lakas'la
Citation Quote: https://en.unesco.org/idil2022-2032