2 min read
Indigenous Veterans: Equals on the Battlefields, but Not at Home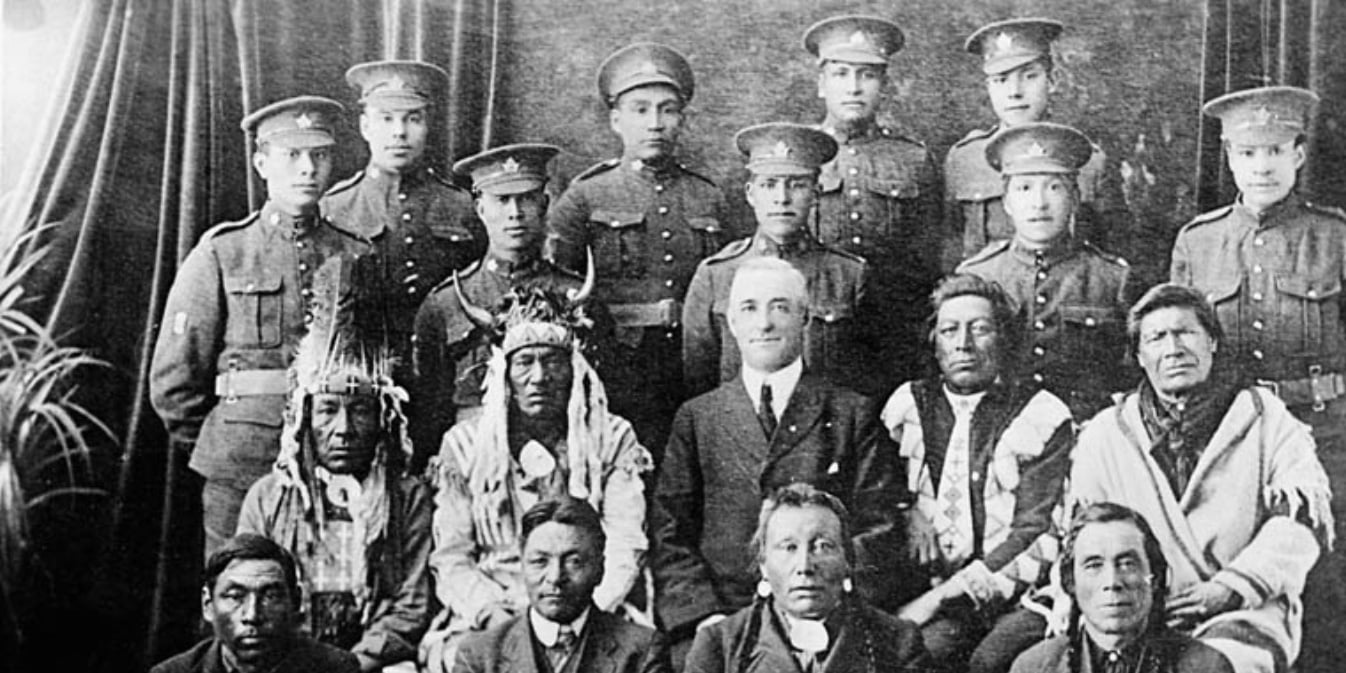 Indigenous Peoples in Canada have fought on the front line of every major battle Canada has been involved in, and have done so with valour and distinction. It is estimated that 7,000 First Nations People served in the First and Second World Wars, and the Korean War; an unknown number of Métis, Inuit and non-Status Indians also served. However, it was not until 1995, fifty years after the Second World War that Indigenous Peoples were allowed to lay Remembrance Day wreaths at the National War Memorial to remember and honour their dead comrades.
At the time of the First World War, First Nations (status Indians) were exempt from conscription because they were not considered "citizens" of Canada and did not have the right to vote. To serve in the Canadian Air Force or Canadian Navy, you had to be "of pure European descent"; this restriction was rescinded in 1940 for the Air Force and in 1943 for the Navy.
Being exempt from conscription did not dissuade First Nations from wanting to fight in the First World War. It is estimated that 4,000, or one in three able-bodied men, volunteered to fight; of that number, approximately 300 died. By 1942, compulsory overseas service was implemented and in 1943, the government declared, that as British subjects, all able Native men of military age, (Inuit People remained exempt from conscription) could be called up for training and service. Many bands protested with marches and petitions to Ottawa. The issue was raised several times in the House of Commons and in 1944, the decision was made by the war cabinet committee to exempt First Nations who had been assured, during treaty negotiations, that they would not be involved in British battles.
During the Second World War, more than 3,000 enlisted (of which over 200 died) and those that remained in Canada supported the war effort monetarily.
After the First World War, returning veterans did not receive the same assistance as other returned soldiers under the War Veterans Allowance Act; this policy endured from 1932 until 1936. Many First Nation veterans from the Second World War found that when they returned home after fighting overseas for Canada, they were no longer considered Indians because the Indian Act specified that Indians absent from the reserve for four years were no longer Indians.
Between the two world wars, some Indian reserve land was sold to the Soldier Settlement Board for non-Indigenous veterans who wished to farm, by Order-in-Council (PC, 393 of 16, February 1918). Many more thousands of acres were leased to non-Indigenous farmers for up to five years to promote greater agricultural production for the war effort.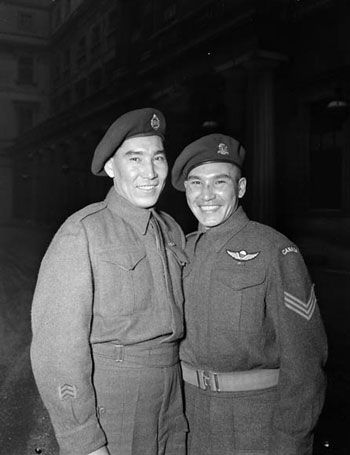 Many status Indian soldiers had to become enfranchised before they could sign up to fight in the Second World War, which meant that when they returned to their home communities, they no longer had Indian status.
They also did not have the right to obtain other benefits available to non-Indigenous veterans due to Indian Act restrictions. Between 1932 and 1936, Indigenous veterans on reserves in need of help were to be treated like everyone else on reserves rather than as veterans. Many Second World War veterans, including Tommy George Prince, the most decorated Indigenous war veteran whose medals included the American Silver Star and six service medals, re-enlisted for the Korean War simply because they were unable to re-enter their previous lives. The lives of numerous Indigenous veterans ended in despair and poverty.

Featured photo: Elders and Indian soldiers in the uniform of the Canadian Expeditionary Force [WW1]. Photo: Library and Archives Canada / PA-041366
2 min read
Photo: Shutterstock Definition: "Traditional ecological knowledge (TEK) describes aboriginal, indigenous, or other forms of traditional...
Read More