When it comes to a handshake and Aboriginal Peoples what could possibly go wrong?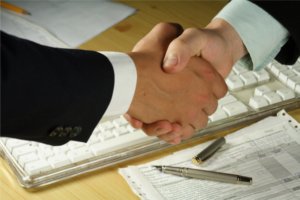 Should you ever offer a hand and are not offered one in return, then be sure not to read anything into the fact that someone from the community didn't offer to shake hands with you when you offered a hand first. Do not interpret it as a sign of disrespect, or a sign that they don't like you when it could possibly be a sign that they simply don't shake hands.
Download our free ebook with 27 tips on Working Effectively with Indigenous Peoples™
So what do you do if you offer a handshake and none comes back? Be prepared to be left hanging! To save yourself from this uncomfortable situation, pretend to scratch your shoulder in a looked-like-a-handshake-but-then-turned-into-a-shoulder-scratch manoeuvre.
Another handshake scenario is when you offer a handshake and they offer you the left hand instead - there is no shaking or squeezing and it can go on for an uncomfortably long period. Remember they are just being polite and your job is to roll with the punches.
Working Effectively with Indigenous Peoples® Tip:
They lead the handshake. If they grab your hand firmly, squeeze really hard twice, while doing the salt and pepper shaker action, then you do all of that in return. You don't lead in case they don't do any of that. There have been situations in which Aboriginal people have been caught off guard in a handshake situation and have had their hands squeezed too hard and have been injured. Not a good way to kick off your Aboriginal relations.
Two last thoughts on the handshake:
When in the north working with the Inuit, or all northerners for that matter, be sure to take your glove off when shaking hands.
You know you are doing really well when you are given a hug and not a handshake.
Subscribe to our monthly Indigenous Relations Bulletin.