"Honouring our ancestors through our elders & recognizing our future through our youth."[1]
For companies that want to work on traditional or treaty lands, building a respectful, effective First Nations community engagement strategy is key. A good first step is to find out what is important to the community you want to work with – fundraising for youth initiatives, community infrastructure or community events are a few common initiatives in First Nation communities.
Sponsoring and attending annual events shows a long-term commitment to the community. The annual BC Elders' Gathering is a strategic event to sponsor and attend because Elders can have a powerful voice in the community decision-making process. Their one concern is the future of their people, their language, traditions and land. As Brad Boyes, Director of the Annual BC Elders Gathering Society, says "The Elders are who government and corporations should be meeting with. There's no volatility there, they only care about the future of the people. These are the true decision makers in the province of British Columbia." [2]
The BC Elders' Gathering is a volunteer-run event completely devoted to honouring First Nation Elders. The Gatherings provide a rare opportunity for people of a similar age to meet and mingle, share ideas, socialize, enjoy some pampering, learn new crafts, enjoy each other's traditional languages, dances and songs, as well as dancing and sightseeing. It's all about showing respect, and appreciation and ensuring the senior members of the community have a wonderful experience. It's not a political event, but that doesn't mean politics are not discussed.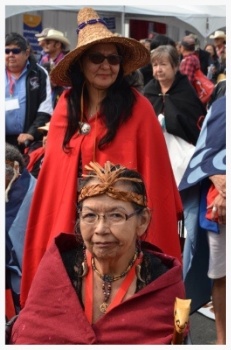 Another purpose of the Gatherings is "to educate and provide guidance, support and mentoring for aboriginal youth through interactions with elders and other members of their community." [3] Youth have a strong presence at the Gathering, as Elder attendants, in workshops with Elders, as dancers and singers, and as volunteers.
The first BC Elders Gathering was hosted by the Coqualeeza Elders 38 years ago and has been held in a different location every year since then. The dates and locations of each Gathering are recorded on the base of a totem pole carved by Frances Harne. The Nations interested in hosting the next Gathering "bid for the Totem Pole" and the winner is announced during the Gathering. The 39th annual Elders' Gathering, hosted by the Tsawout Nation on lower Vancouver Island, attracted 2500 Elders from 60 Nations and their families/caregivers for a total of about 4000.
The event also drew about 400 volunteers from First Nation communities, youth groups, local churches and individuals who wanted to participate and show their support for the First Nation tradition of respecting one's Elders and contributing to the Elders' overall enjoyment of the event. The Gathering provides an opportunity for non-Aboriginal people to build bridges of understanding and awareness of this aspect of First Nation culture. How many other cultures honour their Elders?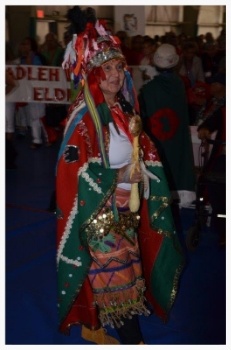 Next year the 40th annual event will be in Williams Lake. Please consider sponsoring and rolling up your sleeves and participating as a volunteer. Some of the sponsors for the 2015 event include the Ministry of Aboriginal Relations and Reconciliation, Black Press, RBC, Telus, BC Hydro, FortisBC, MABC, Canfor, and Kinder Morgan Canada to name a few.
[1] 39th Elders' Gathering
[2] CHEK News
[3] Elders' Gathering Society