This presentation is called First Nations and Big Retail Outlets. I was inspired to do this while on a recent trip to Campbell River, BC when I noticed this Target Store logo with First Nations designs beside it. That's when it dawned on me that the local First Nations were involved in a big way in the retail sector. Not only were they involved, but it was with an all star cast of some of the biggest names in retail like The Home Depot.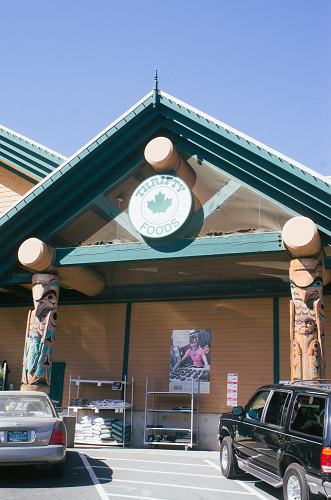 One of the things I found really interesting was the co-branding. I noticed it doesn't take away from the brand. This is important because brands, like the 10 profiled here, are very selective about their brands and what is seen near it.
Another important distinction here was that the images and artist are local. I have seen communities get more than a little upset when they see the art of someone else in their territory. It's a faux pas to be avoided for sure.
Here is another thought - retailers anywhere could and are doing this inside and on the outside of their stores. Think about prints, paintings, carvings or sculptures could be placed as part of the retail display. Back to a previous point though, which was be sure to use local images and art. Incorporating images and art is a small change that could yield good results when it comes to establishing yourself as the retailer of choice with neighbouring communities.
Now back to this all star cast and here you have Walmart, and in this next picture we give McDonalds a little more profile
Reasons First Nations communities do this include economic development purposes, employment development purposes, and to facilitate the nation building process.
That's why will see brands like Subway, Money Mart, and TD Canada Trust.
So what can a local retailer do to really brand themselves the retailer of choice? Research local communities, look for opportunities to do business, advertise in local first nations publications, hire locally, and consider sponsorship or donations to community events as part of the outreach process.
So, rounding out our 10 retailer list we find Staples, Rogers Wireless, and last but not least, Shell.
In closing let me say "Kudos" to these 10 big brands that include: Target, The Home Depot, Walmart, McDonalds, Subway, Money Mart, TD Canada Trust, Staples, Rogers Wireless, and Shell who are leading the way to business with First Nations in the retail sector. There are obviously many more out there but these are the ones that caught my attention.
How about you? Have you noticed other other retailers not mentioned here in your area. Drop us a comment below.
We like to feature articles that celebrate respectful relationships between First Nations and business, resource development etc.
If you enjoy reading articles of this nature, consider signing up for our free, weekly newsletter.