What is a culturally competent health care environment? It is an environment in which Indigenous people feel culturally safe.............they are treated with respect, compassion, and cultural understanding. A culturally incompetent health care environment is one in which Indigenous people encounter racism, stereotyping, and disrespect both personally and culturally.
Indigenous people in Canada have the poorest health of all Canadians: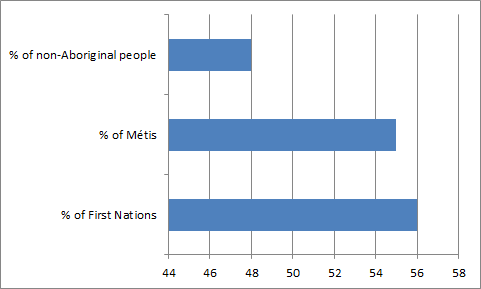 First Nations people living off reserve, Métis, and Inuit reported poorer health compared with non-Aboriginal people based on Canadian Community Health Survey data from 2007 to 2010.
The poorer self-reported health among First Nations people and Métis was partly a result of higher rates of chronic conditions. About 56% of First Nations and 55% of Métis reported being diagnosed with one or more chronic conditions, compared with 48% of non-Aboriginal people. Study: Select health indicators of First Nations people living off reserve, Métis and Inuit, 2007 to 2010
The reasons behind this statistic are many - intergenerational effects of colonialism, residential schools, poverty, and the triplet factor of inadequate education, housing and unsafe drinking water on some reserves - all of which are underscored by the fact that many Indigenous people do not trust, nor are comfortable in, the healthcare system.
This lack of trust means Indigenous people may be hesitant to seek health care when they first experience symptoms of ill health which can lead to a later-stage diagnosis and ensuing implications in terms of treatment and successful outcomes. The lack of trust also means many patients drop out of treatment, and acts as a barrier to accessing preventative care programs such as immunization and screening tests.
True, fundamental change in the way healthcare is provided to Indigenous Peoples will require commitment from all levels of government. It will also require commitment on the part of educational institutions that deliver health education, and should include representative groups such as the Assembly of First Nations, Native Women's Association of Canada, Inuit Tapiriit Kanatami and Metis National Council.
There are some excellent examples of healthcare centres that have created culturally competent care environments. The Whitehorse General Hospital, through its community-led First Nations Health Program, is one. In 1990, when the Yukon Territory was preparing for the First Phase Transfer Agreement that saw the Yukon Territorial Government, in the form of the Yukon Hospital Corporation (YHC), take on the responsibility for health services from the federal government, the Council of Yukon First Nations (CYFN) and the YHC developed an agreement to create a First Nations Health Committee. This led to the ability of the CYFN, which at the time represented 14 First Nations, to develop a health care program that was tailor made by Yukon First Nations for Yukon First Nations.
Culturally competent care is experienced by the patient from the moment they enter the system when they are asked if they would like to self-identify as having Indigenous ancestry, which opens the door to accessing the programs.
The program includes Health and Social Liaison Workers, who do just that - they liaison with each patient:
"There are six Liaison Workers, with training in Aboriginal health and social work, who visit each First Nations, Inuit or Métis patient that is admitted to the hospital and, as needed, in the Emergency Department whose role is to:

Provide emotional, spiritual and social support and help with communication between the patient, their family and hospital staff.

Provide information about hospital care (diagnosis, treatment, procedures, etc).

Plan, develop and participate in culturally relevant health counseling and support.

Advocate for Aboriginal people using acute health care services." Yukon Hospital Corporation
The First Nations Health program also includes a Child Life Worker, a Community Liaison/Discharge Planner, a Traditional Medicine Coordinator and, the Na'Ku Healing Room, which "is available as a place for family members to gather, to be with a patient, to pray and practice traditional ceremonies and private rituals. The Healing Room is open for use by all people who respect our traditional beliefs." Yukon Hospital Corporation
Image courtesy of renjith krishnan
Here's a free eBook for you that looks at and dispels 9 common myths about Indigenous Peoples.