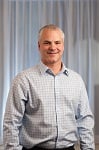 Clayton Norris, MBA, CAFM, is the Vice President of MNP's Aboriginal
Services. He leads the MNP Aboriginal Services team, which currently
provides services in accounting and business consulting to more than 150
Aboriginal communities across Canada. Based in Calgary, Clayton works
closely with First Nations and Métis communities in an advisory capacity,
assisting clients in the areas of business and strategic planning, human
resource issues, corporate finance, training and economic development
consulting. With his extensive experience working with Aboriginal business
and communities, Clayton understands the unique requirements of
Aboriginal people. He takes great pride in being a close professional advisor
to the individuals and organizations that manage and direct development
within the Aboriginal community.
Clayton played a key role in the development of MNP's Aboriginal Self-
Employment and Management Training program—customized training
designed to develop business and entrepreneurial skills for Aboriginal
entrepreneurs and management. Since inception, these programs have
trained more than 2,000 participants across Canada.
As a member of the AFOA Alberta Board in 2005, Clayton was awarded the
Deputy Minister's Pride and Recognition award for Excellence in Leadership.
He was a member of the 2008 Governor General Leadership Conference,
an active participant in Roundtable of Economic Development with
Members of Parliament, Aboriginal and industry leaders, and took part in the
Canada Public Policy Forum for Aboriginal Participation in Major Resource
Projects. He has been the project team leader for a variety of management
and financial advisory projects in Aboriginal communities, a speaker
for numerous charities and charity events, and a volunteer with several
organizations in Alberta. Clayton is a Certified Aboriginal Financial Manager
(CAFM), and earned his MBA from Nottingham Trent University in England.
He is a proud member of the Métis Nation of Alberta.
Clayton shares his perspective on "The Business Rational for Improving the Financial Education of Aboriginal Communities"
Download our free "Guide to Terminology" by clicking the blue button!