On June 15, 2015, I, along with my sisters, had the great honour of witnessing our father, Chief Dr. Robert Joseph, be appointed to the Order of British Columbia by Lt.-Gov. Judith Guichon. To say I was proud would be an understatement.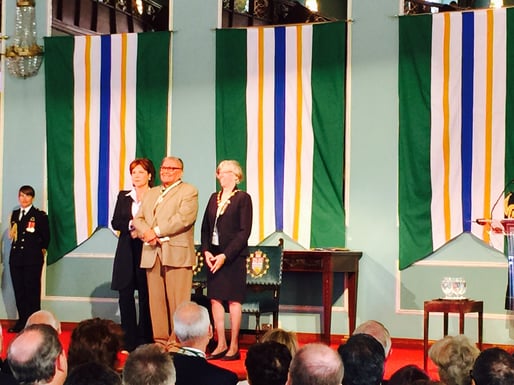 As I sat in the audience at Government House in Victoria I was really overwhelmed by the many people in this province who give so much of themselves to working in their communities to enrich or improve the lives of others. It was inspiring to learn of the backgrounds of all the recipients.
Congratulations to all 19 appointees!
My dad received the Order because of his decades' long work for building bridges to reconciliation for all Canadians. Here's the backgrounder on why he was nominated and selected for this honour:
"Chief Robert Joseph is a true peace-builder whose life and work are examples of his personal commitment. A hereditary chief of the Gwawaenuk First Nation, Chief Joseph has dedicated his life to bridging the differences brought about by intolerance, lack of understanding and racism at home and abroad.
Chief Joseph has worked as Ambassador of Reconciliation for Reconciliation Canada, serving as the face and voice for its work. A member of the National Assembly of First Nations Elders Council, former executive director of the Indian Residential School Survivors Society and honorary witness to Canada's Truth and Reconciliation Commission, he models an inclusive approach to peaceful dialogue that embraces all cultures and faiths to create unity of purpose to reach reconciliation.
A survivor of the St. Michaels Indian Residential School, Chief Joseph endured inconceivable hardships as a young boy. Despite the resulting deep struggles, he persevered and dedicated his life to help renew relationships between aboriginal peoples and all Canadians.
Chief Joseph's journey from residential school survivor to Ambassador for Peace and Reconciliation mirrors the journey of our province from colony and colonizer to global social and economic leader.
One of the last fluent speakers of the Kwakwaka'wakw language, Chief Joseph is an eloquent and inspiring speaker who initiated the reconciliation dialogue process and ignited a fire under it. A bi-cultural communicator and leader, he is a man of integrity, providing our province with nuggets of hope, fostered by a dream of unity, forgiveness and strength.
His work has been recognized and acknowledged through several accolades including an Honorary Doctorate of Law Degree from the University of British Columbia, the Jack P. Blaney Award for Dialogue from SFUity, an Honorary Doctorate of Divinity from Vancouver School of Theology and the City of Vancouver Award of Excellence in Diversity and Inclusion." BC Government news release
Order of British Columbia fast facts:
Over 5,000 British Columbians have been nominated for the Order since since its inception in 1989
386 people have been appointed since 1989
249 British Columbians were nominated this year
Recipients can use "O.B.C." on their letterhead
Since my dad's appointment to the Order of British Columbia, he was awarded the Lifetime Achievement Award by Indspire in 2016.
Did you know we have free eBooks for download? Here are just three of many. Click the cover icon to begin the download.