This is a commonly asked question so we did some research to find the answer and found out all sorts of interesting information about the history of national parks and evolution of the relationship between national parks and First Nations Peoples.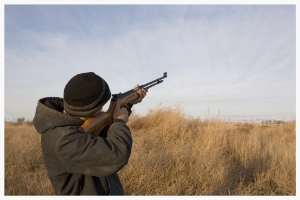 The concept of a "nation's park" that would provide protection for the wild animals of the American plains was first put forth in 1832. Four decades later, in 1872, Yellowstone National Park, the first national park in North America was created. A few short years after that, in 1885, Banff National Park (original name was Rocky Mountains Park) was established as Canada's first national park. These national parks were established as protected areas of pristine, natural beauty and diversity that would generate great national pride and be preserved for future generations. What was not taken into consideration, or if it was it was ignored, was the fact that for thousands of years Aboriginal Peoples had lived, traversed and harvested these same vast tracts of land.
By the early 20th century seven national parks had been created in southern Canada and not one was developed with consideration for First Nations' historic use and occupation of the land. They all prohibited traditional hunting and gathering activities, and in the case of Banff, the Stoney Nakoda, who had traveled and hunted in the area for centuries, were also prohibited.
Interestingly, Banff established "Banff Indian Days" in the late 19th Century as a festival for tourists to see "real Indians" and to display the Stoney Nakoda and other First Nation "authentic" culture. During Indian Days, First Nations were welcomed in Banff but only under strict conditions - they were expected to wear regalia at all times, abstain from drinking alcohol, and leave their cars in the parking lots, among other restrictions and expectations.
So, on the one hand, First Nations were banned from the parks due to the perceived damage they would cause, while on the other hand they were expected to attend Banff Indian Days to draw tourists and revenue, and then vacate again. Yikes.
The establishment of the Wood Buffalo National Park in northern Canada in 1922 (expanded in 1924 to the south) was the first national park to allow traditional activities to continue, albeit with a permitting system that set annual limits. This was the first time what is now Parks Canada (founded in 1911) included consideration of Aboriginal Peoples in the management of a park. Apart from this exception, harvesting of any manner was generally prohibited as it was considered the polar opposite of the preservation mandate of national parks.
The era of modern land claims and court decisions regarding Aboriginal rights and title ushered in a more cooperative relationship between Parks Canada and Aboriginal Peoples. Modern treaties became a means of legitimizing harvesting rights in national parks. In response to the growing recognition of Aboriginal rights, Parks Canada introduced "national park reserves" in 1972. Park reserves are sections of land set aside and managed as national parks until the land claims relevant to the piece of ground are resolved. In park reserves, it is recognized that Aboriginal rights may still exist and, as such, still allow for the continuance of traditional harvesting.
In 1979, Parks Canada policy added this clause to reflect the new reality:
"Where new national parks are established in conjunction with the settlement of land claims of native people, an agreement will be negotiated between Parks Canada and representatives of local native communities prior to the formal establishment of the national park creating a joint management regime for the planning and management of the national park." [1]
The passing of the Constitution Act, 1982, through Section 35, formally entrenched Aboriginal and treaty rights in the supreme law of Canada. It has, however, created some loopholes in the ability of Aboriginal people to exercise their rights within national parks. Parks Canada has taken the position that "legislation used to establish national parks prior to 1982 extinguishes any Aboriginal or treaty rights with regards to those parks. Consequently, of the forty national parks and park reserves in Canada, harvesting as an Aboriginal or treaty right takes place in twenty of them — primarily in parks and park reserves established after 1982 or those established in northern Canada under comprehensive land claims." [2]
So, can First Nations hunt in national parks? Yes, but only in about half of the total number of parks. Will things stay the same or change? Only time will tell as there may still be legal challenges that will test the ability of legislation that infringes on the exercise of constitutionally protected rights. From a legal perspective, infringement can done but only for compelling and substantial objectives like conservation and management of resources as was stated in Sparrow.
[1] Heritage Canada
[2] The Question of Aboriginal Harvesting in Canada's National Parks
Want to learn more about the law? Check out the Tsilhqot'in and Grassy Narrows aboriginal law update.

Here's a free ebook for you - 27 tips on Working Effectively with Aboriginal Peoples® - just click the icon to being your download.