By Bob Joseph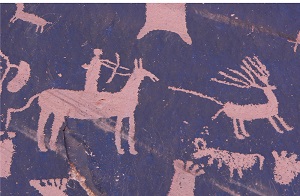 There has been a long held idea that all Aboriginal Peoples were nomadic peoples living in primitive conditions roaming the land searching for their next meal. There is a great deal of archaeological evidence to suggest that while some Aboriginal Peoples were nomadic a great number were not.
For example, midden sites in coastal British Columbia date back thousands of years. A midden site is where Aboriginal People heaped their clam shells after consumption. Archaeologists use these midden sites to count the layers of clam shells like rings on a tree to see how long and how many people lived in an area. This is a clear indication that some Aboriginal Peoples were stationary, and if they did move, it was to go from a summer house site to a winter house site. In the Fraser Valley, one of the popular Sto:lo First Nation sites at Xá:ytem is dated at about 9000 years, providing evidence of continued occupation of one site for 9000 years.
There were other Peoples who did move around throughout the year; fishing in one place in the summer and hunting in another place in the winter but it was always within a traditional territory. Sometimes those territories were shared with other communities; for example, the Cree, Assiniboine and Ojibway share a similar history and cultural traditions due to their use of overlapping territory for hunting and gathering of food.
Our Aboriginal awareness courses cover the common misconceptions held by some non-Aboriginal people. Check out this free ebook to see what else you can learn.