Every so often a shining example of recognizing an opportunity to reach out and work with an Aboriginal community for the betterment of all comes along that really tugs our heartstrings. This is the story of how a bunch of kids scrabbled together some tools and lumber and built their own mountain bike park all on their own, and in doing so launched the impetus for a visiting community planning consultant, Patrick Lucas, to create the Aboriginal Youth Mountain Biking Program (AYMBP). The Aboriginal Youth Mountain Bike Program is a non-profit, volunteer driven program to assist and support Aboriginal youth and communities to participate and excel in the sport of mountain biking and this is how it all began.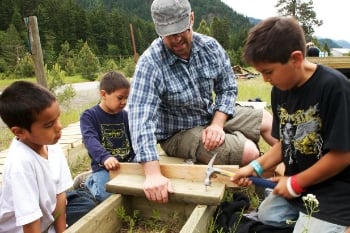 "I am a community planning consultant with David Nairne & Associates, and an avid mountain biker. In my work I visit First Nation communities throughout BC, and one of the most common concerns Elders and Councillors share with me is the health of the children and youth, the use of drugs, and the need for new and innovative ways to engage them in healthy activities.
I was doing a community plan for the Boothroyd Indian Band and they brought up the subject of mountain biking. They said the kids were taking lumber out of peoples' yards, and digging up the soft dirt around the fire hydrants and building jumps around the community that were quite dangerous. They didn't want the kids to stop, they just wanted to make it safer, and asked if I could help. When I talked to the kids they offered to show me where they rode. They took me way out in the woods, across a ravine and into a clearing. I was amazed. They had built, all by themselves, about 500 metres of jumps, berms and features – it was sketchy on the safety side, but very elaborate. All they had to work with was an old wheelbarrow and a broken shovel. No one in the community knew that this existed and the kids had been working at it for about three years. It was a substantial amount of work. I got really excited about it at that point – what those kids had done was amazing.
I reached out to the mountain biking community and met Doug Detwiller, a retired teacher, who twenty years ago developed a program using mountain bikes to connect to kids who were dealing with anger and self-esteem issues. His theory was if you have a kid with an anger management issue and you take him out riding for a couple of hours, he's going to be calmer and easier to manage in the classroom. Doug developed an entire curriculum, called Sprockids for teaching kids leadership, self-esteem, and anger management skills through mountain biking. He came on board and we got some funding from Mountain Equipment Co-op, Vancouver Foundation and developed AYMBP.
We met with the kids in Boothroyd a few times and asked them what kind of riding they wanted to do so we knew what sort of team to put together. We gathered some professional builders and arranged a date to work with the kids on building a bike park.
You know you're doing something right when you turn up in a community on a cold, wet Saturday morning at 8 am and there's fifteen kids waiting impatiently for you. We worked ten hour days for two days and those kids were there the whole time. They worked us ragged and then made us play floor hockey in the evening with them.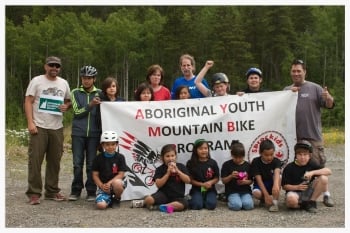 The parents came to watch and were so amazed to see their kids digging, hammering and moving dirt, and just working so hard. It was one of my favourite moments. The community also bought some tipis and later developed a youth camp down by the river. They are using mountain biking to get the kids engaged.
I have worked with Indigenous communities all over the world and with First Nation communities in BC for eight years and while I was accepted and felt connected with the communities, I still always had that sense of being the outsider, the consultant. Working with the kids in Boothroyd on the mountain bike park changed all that – I was part of the community. I knew I had to expand the program to include leadership, skill building and trail building courses. Three years later it has morphed into building trails with communities. There is a big demand around communities for trails for people to ride and walk on, to get out and reconnect with their land.
It is also a way to build bridges between First Nation communities and their neighbors. The mountain biking community, contrary to the common idea, is not a bunch of kids throwing themselves off impossibly dangerous jumps. A 2006 study showed that in BC 22% of the people contacted had engaged in mountain biking in one form or another. Studies have shown that the majority of riders are between the ages of 25 and 55, and make between $25,000 and up to $150,000 a year. These are the people who ride, volunteer and build trails. We want to get these two groups talking and collaborating.
Every two years there is a mountain bike tourism symposium. In 2013 it was in Sooke, on Vancouver Island. We had Chief Gordon Planes, T'Sou-ke Nation, join a panel on how to build relationships – his message was "come and have dinner with us, don't wait until you need something, come and build a relationship with us." I find the mountain biking community is very receptive to this, and I'm getting calls all the time from mountain bike clubs who want to engage with First Nation communities. It's also a great sponsorship opportunity for a company that wants to connect with and give back to a community.
This year we are working with the South Island Mountain Bike Society in Victoria to host an Aboriginal Youth Mountain Biking Day. I am working with communities all over the province now. Many community groups and government agencies are really interested in what we're doing and the opportunity to use this model towards building relationships. It's been a really interesting experience. My long term goal is to develop this into a serious program that can be adopted by First Nations throughout BC and perhaps even across Canada and around the world."
Subscribe to our monthly Indigenous Relations Bulletin.