The Aboriginal Labour Market Community Navigators' project, managed by the New Relationship Trust, was launched in January 2015. The three-year program, which will service nearly 50 First Nation communities, helps First Nation people in BC access skills training and related job opportunities.
Rochelle Saddleman, as Coordinator of the project, manages a team of seven Navigators located throughout BC. She is passionate about the project and took some time from her extremely hectic schedule to provide some insight to the project and some retention tips for employers.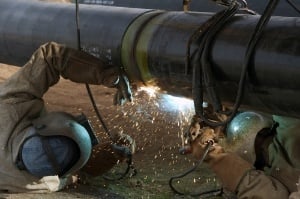 What is the prime objective of the Aboriginal Skills Navigators project?
We are currently working with communities and potential partners to identify training needs and create community-based training initiatives. One of the challenges that has been identified is that accessing training programs outside the community comes at a high cost - childcare, transportation, and the impact of a family's sole provider taking time off work to develop skills, the impact of being away from the community and not having that moral support they need to get through some of the challenges etc. But there is also the vacuum that person's absence leaves in the fabric of the community – for instance they may be responsible for cutting wood for an Elder or helping them harvest.
As there has been no Financial Investment Decision made in the proposed LNG sector, we are currently readying the communities so that they will be positioned to take advantage of employment opportunities as they unfold. As members have been completing their training programs, we have identified the urgent need to assist community members in gaining employment in various sectors. We are reaching out to companies in various industries to identify opportunities for employment. We will work with the communities, ASETS and training providers to match those opportunities with community members who are finishing their training programs, returning back to work, or who are unemployed but are actively seeking work. All except one of our Navigators are from the community they are working with. They are all really passionate about the project and eager to make positive changes in their communities.
We are also working with the communities to identify the capacity gaps within communities. For instance, some communities may not have a dedicated Employment Coordinator – the role may be filled by a band administrator who has many other responsibilities.
We've identified a need for communities to keep track of where community members are on their training or education continuum, what are their strengths/weaknesses. So, if an employer contacts a community and says they are going to need welders, staff will know immediately if they have workers ready for those jobs.
We often hear companies say they don't know how to connect with Indigenous people for employment. What advice do you have for employers in terms of connecting with communities to post jobs, advertise training?
If employers want to connect with the communities to share job postings or advertise training opportunities, they can contact the Employment, Education & Training Coordinators in the communities. If they are unable to connect with the communities directly, they can contact the local Aboriginal Skills and Employment Training Service (ASETS) provider or their local Navigator. ASETS are also coordinating with companies and assisting them in connecting with job seekers. As an example, the Prince George Nechako Aboriginal Employment and Training Association (PGNAETA) is currently working on promoting their new initiative called the Industry Connector which focuses on connecting industry and labour.
Some companies post their jobs to their websites which makes it tough for community members who either don't have internet/computer access, have limited computer skills or limited computer support. People need to realize that not everyone has a computer so web based job information may not reach the intended target audience. These are all barriers that prevent job seekers access job postings. If companies want to expand their job pool, they should consider posting their opportunities through the ASETS, or through WorkBC online. The WorkBC website not only provides a free place to post jobs but they also have a large number of free resources available for companies. One of our hopes is for a centralized site that companies and job seekers can access.
What tips do you have for employers in terms of connecting with Indigenous individuals in urban settings?
Urban indigenous individuals will work with either their local ASETS or Friendship Centre to access training and/or employment opportunities. Individuals are also reaching out to their local WorkBC and employment centres as well.
What are your three top "must do's" in terms of retention of Indigenous employees?
Provide job coaching
Identify role models and mentors within the organizational structure
Develop an understanding and learn to identify cross cultural actions
We hope you found this article on Aboriginal skills training projects interesting. If your area of interest is recruitment and retention, here's another article you may find interesting Aboriginal Retention Strategies and Cultural Leave
Here's a free eBook that has lots of tips for Working Effectively with Indigenous Peoples®