Tobacco, one of the four (sweetgrass, sage and red cedar being the other three) aboriginal sacred plants of Aboriginal Peoples has a very long history and a conflicted present. Considered to be a sacred medicine, it was used in religious ceremonies by Aboriginal Peoples in North and South America long before contact with Europeans. Sacred use of it is so entwined with some Aboriginal cultures that it literally is present at every stage of life: it is associated with birthing rituals, courtship, marriage, death and personal prayer. Sacred tobacco is sometimes not tobacco but is a blend of a variety of plants such as kinnikinick and the bark of the red osier dogwood.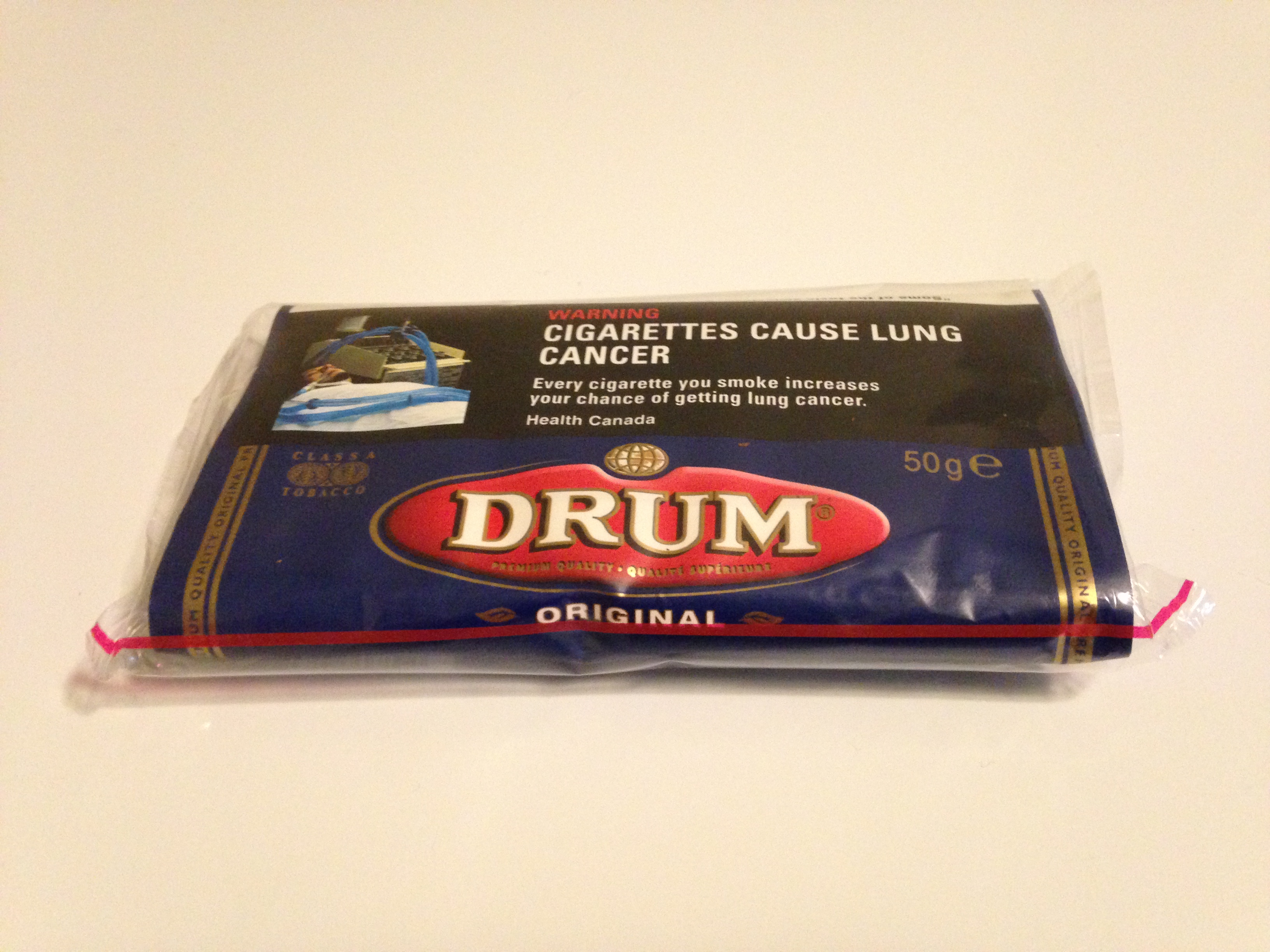 The smoke is believed to be the pathway to the spirit world, and as such, carries all thoughts, feelings and prayers to the Creator. It is sometimes thrown straight on to a fire but is most commonly burned in a hand-made cigar or cigarette, bundle or in a pipe. The smoke is not inhaled but allowed to drift up to the Creator. It is sometimes offered by hunters, with their left hand as that is closest to the heart, before and after a kill as thanks to the Creator and to the animal. It is spread on the ground as an offering to the Earth or on the water as acknowledgment to its critical role in life and to ask for safe passage. It is frequently given as a gift in advance of a request for guidance. It does not feature this way in Inuit culture as it, or its substitutes, cannot grow in the harsh northern climate.
Nicotiana rustica, the variety of the plant that could be grown in non-temperate climates, was relatively easy to grow and was likely the earliest form of agriculture in North America - long before food crops such as corn, beans and squash were grown. It was grown prolifically by members of the Huron Nation who produced more than they could use so traded with northern Nations for furs. When the Hurons, and other Nations, were forced from their traditional lands and their traditional lifestyle dramatically interrupted by the Europeans, they lost control of their fields of nicotiana rustica. European traders in the 18th century were most willing to trade the southern grown, commercial grade nicotiana tabacum for furs and other goods thereby introducing an addictive element to the Nations with whom they traded. As more and more Aboriginal Peoples were forced onto reserves and to abandon their traditional lifestyles, the cultivation and consumption of nicotiana rustica diminished. If Nations were able to continue to grow it, the Indian Act of 1895, snuffed out their ability to sell it by decreeing it illegal for Aboriginal Peoples to sell products from their farms. The government-driven assault on ceremonies and traditions such as growing tobacco was an attempt to undermine and destroy the social fabric of the First Peoples of Canada. What it accomplished was to drive it and its ceremonial use underground and cement it as a symbol of cultural resistance, along with all the other ceremonies that were prohibited.
Recently, as in the case of the Siksika Nation, in southern Alberta, there are efforts to bring back the ceremonies and traditions, which included the singing of 230 songs, associated with the planting of this plant.
Ceremonial usage is not to be confused with recreational smoking. There is a clear distinction between the traditional, and non-traditional, use - when used traditionally, it is a powerful medicine, but like all medicines, if used improperly, it has the power to harm. Tobacco-related illnesses and diseases are urgent issues in First Nations and Inuit communities, where smoking rates are more than triple the rate for the rest of Canada. First Nations Elders teach that this recreational abuse of a sacred plant is disrespectful of the spiritual, medicinal, and traditional use of this plant..
This great video produced by the National Inuit Youth Council (NIYC) urges teens to take control of their lives and quit smoking:
Want to learn more about working with Indigenous peoples? Here's a hand free ebook with 27 tips.