One of our newsletter subscribers, Rod Cunningham, brought to our attention an online ad regarding exclusive accommodation rates for the Aboriginal community, and made this comment "A nice example of how business can be more inclusive and welcoming to Aboriginal Peoples." So, we decided to find out more about the initiative and the impetus behind it.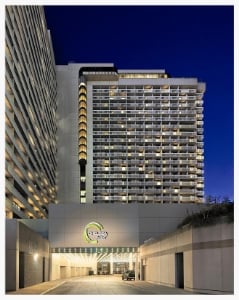 Ken Hewitt, Sales Manager, and Tracy Ford, Director of Public Relations, Chelsea Hotel, took some time to answer a few questions about the discounted Aboriginal and First Nations Meeting Packages and exclusive room rates (from as low as $125).
When and why did the Chelsea first launch this initiative? The Chelsea recognized Aboriginal Peoples as a growth market 22 years ago. Management thought it was important to show our appreciation through recognition and respect for our valued First Nation families. When a First Nation community or organization books a conference or meeting with us, we work together so that the organization and the hotel achieve the desired results; it's a partnership and a relationship.

How has the uptake been? Having initiatives such as this in place is very much appreciated by our First Nation families and we continue to be recognized as an industry leader. We have expanded the initiative to include an Elders Recognition program, which is much appreciated. Our staff go out of their way to ensure our First Nation guests are at their second home and part of our family.
How do you build relationships with First Nation communities? I frequently schedule trips to First Nation communities to show our appreciation and thank them for their business. I also attend conferences, such as the AFN General Assembly.
Does the Chelsea have Aboriginal staff? Yes, our Receiver has been with the hotel for over 20 years.
What tips can you offer other hotels in regards to creating a welcoming atmosphere for Aboriginal guests and staff? The only advice I can offer to other hotels is to listen to your customers' needs.
So, if your travel plans include Toronto, consider staying at the Chelsea - you never know who you might bump into. We stay there a lot when in Toronto to deliver workshops.Let us know your experience, leave a comment in the box below.
Here's another example of the hospitality industry reaching out to develop welcoming and inclusive environment for Aboriginal guests.
Looking for information on Working Effectively with Aboriginal Peoples®? Here's a free ebook with 23 tips on what not to say or do.