Updated: March 23, 2018
Eight of the key issues that are of greatest concern for Aboriginal people in Canada are complex and inexorably intertwined - so much so that government, researchers, policy makers and Aboriginal leaders seem hamstrung by the enormity. It is hard to isolate just one issue as being the worst. The Indian Act greatly contributes to these eight issues and more. And read this article 21 things about the Indian Act, if you want to know the intent and extent of the Act.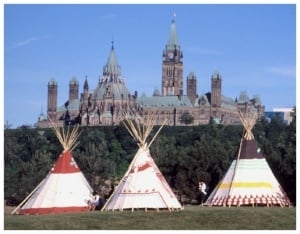 Watch our video on this blog article here
1) Poorer health
There have been strides made on the part of many Aboriginal communities to improve education around health issues, but despite these improvements, Aboriginal people remain at higher risk for illness and earlier death non-Aboriginal people. Chronic diseases such as diabetes and heart disease are on the increase. There are definite links between income, social factors, and health. There is a higher rate of respiratory problems
and other infectious diseases among Aboriginal children than among non-Aboriginal children - inadequate housing and crowded living conditions are contributing factors. Read:
A Snapshot of On-Reserve Clean Water Issues
2) Lower levels of education
Colonialism accounts for many bitter, demoralizing legacies, the most pervasive of which is education - the root of this particular legacy is that ultimate national experiment in assimilation - the Indian Residential School
system. According to Statics Canada's 2011
Aboriginal Survey
, 22.8% of Aboriginal Peoples had completed high school and post-secondary education.
3) Inadequate housing and crowded living conditions

Three words - Attawapiskat First Nation. The conditions in this community drew national and international media attention to a housing situation that far too many Aboriginal communities struggle with. Attawapiskat drew the attention of the United Nations. To learn more about on-reserve housing issues, read
8 Things You Need to Know About On-Reserve Housing Issues
4) Lower income levels



In 2010, the median income for Aboriginal peoples was $20,701, whereas the median income for non-Aboriginal people was $30,195. The earning gap between Aboriginal workers and non-Aboriginal workers shrank between 1996 and 2006 but, according to The Income Gap Between Aboriginal Peoples and the Rest of Canada, if the gap continued to close at the current rate it would take 63 years for it to be erased.
5) Higher rates of unemployment
Aboriginal peoples have historically faced higher unemployment rates than non-Aboriginal people. The unemployment rate for the Aboriginal working-age population is 15% which is double the 7.5% rate for the non-Aboriginal individuals. [1]
6) Higher levels of incarceration
In 2015/2016, Aboriginal adults were over represented in admissions to provincial and territorial correctional services, as they accounted for 26% of admissions while representing about 3% of the Canadian adult population. The findings for provincial and territorial custodial admissions (27%) were similar to community admissions (24%).
Aboriginal adults in federal correctional services accounted for 28% of admissions to custody and 26% to community supervision in 2015/2016. Read: Nearly half of youth incarcerated across Canada are Indigenous: Statistics Canada
The over representation of Aboriginal adults was more pronounced for females than males. Aboriginal females accounted for 38% of female admissions to provincial and territorial sentenced custody, while the comparable figure for Aboriginal males was 26%. In the federal correctional services, Aboriginal females accounted for 31% of female admissions to sentenced custody, while the figure for Aboriginal males was 23%. [2] Read: What are Gladue Reports?
7) Higher death rate amongst children and youth due unintentional injuries
Children in Aboriginal families also have high rates of unintentional injuries and early deaths from drowning and other causes. According to Health Canada statistics, Aboriginal children are three to four times more likely to die from unintentional injury than non-Aboriginal children of the same age.
8) Higher rates of suicide
And the most tragic of all is the higher rate of suicide among First Nation, Métis and Inuit youth. A 2016 Statistics Canada report found that more than one in five off-reserve First Nations, Métis and Inuit adults reported having suicidal thoughts at some point in their lives. Suicide rates are five to seven times higher for First Nations youth than for non-Aboriginal youth, and for Inuit youth, the rate is among the highest in the world - 11 times the national average. "Suicide and self-inflicted injuries are the leading causes of death for First Nations youth and adults up to 44 years of age." (A Statistical Profile on the Health of First Nations in Canada for the Year 2000, Health Canada, 2003)
[1] The Aboriginal Economic Progress Report 2015
[2] Adult correctional statistics in Canada 2015/2016
If you are interested in more information on the key issues for Aboriginal people in Canada, "8 Basic Barriers to Aboriginal Employment"
Interested in learning more about the impacts of the Indian Act? This little book is a great place to start.