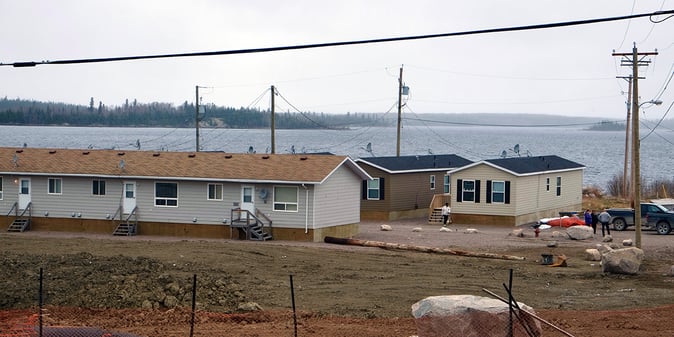 A First Nation reserve is a tract of land set aside under the Indian Act and treaty agreements for the exclusive use of an Indian band (First Nation). Earliest examples of reserves date back to attempts by French missionaries in 1637 to encourage Aboriginal Peoples to settle in one spot and embrace both agriculture and Christianity. As more and more Europeans settled in Canada and on the traditional lands of Indigenous Peoples, it became apparent to the authorities that an effective means to ensure the most fertile land was available to European farmers was needed. The development of the reserve system met this need.
1) How many reserves are there in Canada? According to the Registered Indian Population by Sex and Residence, 2020, there are 3,394 reserves, not all of which are inhabited.
2) How many First Nations live on reserves? The 2021 Census shows 1,048,405 First Nations people living in Canada, of which 71.8% had Registered, or Treaty Indian status under the Indian Act and 40.6% lived on reserve. Here's a deeper look: 8 Things You Need to Know About On-Reserve Housing Issues.
3) Do Metis and Inuit have reserves? Not usually, although many live in communities that are governed by land-claim decisions or self-government agreements.
4) Are reserves the same as traditional lands? No. As designated in the Indian Act,
"Reserves are held by Her Majesty for the use and benefit of the respective bands for which they were set apart, and subject to this Act and to the terms of any treaty or surrender, the Governor in Council may determine whether any purpose for which lands in a reserve are used or are to be used is for the use and benefit of the band." [1]
Traditional lands refer to an area that a Nation has occupied and used for many generations, long before reserve borders were imposed by the Indian Act. When reserves were designated, traditional usage and ceremonial sites were not always considered. Some Nations were relocated to reserves in areas that were completely alien to their traditional lands.
5) Can one Chief and Council administer more than one reserve? Yes, some reserves are shared by more than one Nation, and smaller neighbouring bands often share ceremonial facilities.
6) On what basis was reserve land allocated? There wasn't a consistent formula for designating land to a Nation. For example, Treaties 1 and 2 used the ratio of 160 acres per family of five; Treaties 3 – 11 allocated 640 acres per family of five. In British Columbia, the ratio was an average of 20 acres granted per family. A Nation may have more than one reserve, and they may or may not all be contiguous.
Here are two starkly opposing perspectives on the size of land allocated to each band.
...This Government does not desire to see apportioned any unnecessarily large Reserves such as would interfere with the progress of white Settlement... [2]

____

Mr. O'Reilly came in 1881 to lay off reserves, and we were surprised at this; and he measured off just a small piece, which he said was for us; but it was too small, not large enough for us, not enough for us to live on, only a little from our houses; we told how much we wanted, but he only shook his head. Only a small part of what he measured is good. My heart is sick, and so are all our people, because the land is so large outside of what he measured for us, and our berry trees, our salmon streams, and hour hunting grounds are in this land that is taken from us. These are not in what Mr. O'Reilly measured for us . . . I want to see the Government do right by us, and the officers to treat us all alike, not help one village different from another, and then we shall have confidence in their work. We want sufficient land for ourselves, to be our own; we do not want it as a reserve; and give us a treaty, and something for the outside, our hearts will then be satisfied. [3]
7) Are all reserves occupied? No, not all reserves are populated, especially some of the smaller, remote reserves. Some reserves may solely be used for traditional seasonal pursuits such as trapping, berry picking, or fishing.
8) Can anyone live on a reserve? Generally, reserve residents are members of the Nation where they reside. According to the Indian Act, only registered Nation members may live permanently on a reserve unless the Nation has adopted a residency bylaw that regulates who has the right to live on the reserve.
And no, reserves are not the same as reservations. Reservation is the term used in the United States. In Canada, reservations can be sought at hotels, airlines, and restaurants. Reserve is the proper legal term.
This article was originally posted on March 6, 2015.
This post is the first in a series. Read the next article:
[1] Indian Act 18. (1)
[2] Instructions to Indian Reserve Commissioner Alexander McKinley, 1876
[3] Statement of George Gibson, Naas River, November 19, 1888