In Culturally Inclusive Schools - Why it's Important we looked at the effect of the comparatively low graduation rate of Aboriginal students and the impact on all Canadians. Here we offer some suggestions for schools to consider in their effort to create a culturally inclusive environment for Aboriginal students.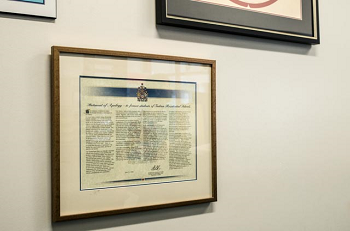 We are not suggesting the following are a panacea to solving the education gap, but what we are suggesting is that if schools put some effort into creating a culturally inclusive school environment, then they could have a positive effect on the comfort level of their Aboriginal students which could go a long way to those students wanting to stay the course, graduate and carry on to pursue post-secondary education.
All schools - whether there is an Aboriginal student population or not - should consider prominently displaying a framed copy of the 2008 Statement of Apology by Prime Minister of Canada, the Right Honourable Stephen Harper to former students of Indian Residential Schools, on behalf of the Government of Canada. The above photo of the Apology is prominently displayed at Stelly's Secondary School in Saanich, BC.
Acknowledge the traditional or treaty land on which the school sits on the school website
Include greeting in local language at all ceremonies – invite an Elder to attend the ceremonies and deliver the greeting/song or ask a student from that community to deliver the greeting
Ensure resources are available for teachers to learn about the local Indigenous community's history, culture and traditions and more
Ensure resources are available for teachers to learn how historical events relate to the present demographic and economic environment
Include use of local Indigenous language in the classroom - something as simple as having the class learn how to say "good morning" or "welcome" in the local language and start each class with the phrase
Organize Indigenous language classes after school for Aboriginal and non-Aboriginal students
Don't expect Indigenous students to speak as representatives of all Indigenous Peoples - recognize and respect cultural diversity
Avoid making any one student a cultural representative
Include treaty education in curriculum if the school is on treaty lands
Realize that some non-Indigenous students come from backgrounds that may have entrenched stereotypical views of Indigenous Peoples - have a school wide code of zero tolerance for stereotypical comments
Ensure school library is stocked with relevant history books – books that address the Indian Act, assimilation, and residential schools
Ensure the school library includes novels by Indigenous authors
Ensure the school library has a copy of the Truth and Reconciliation Commission Report
Ensure there is Indigenous art on the walls by local communities
Include Indigenous games in gym classes – connect with local Indigenous community and find out their traditional games and invite someone from the community to teach the games as part of the gym curriculum
Include Indigenous dance in theatre classes
Include Indigenous films in film study classes
Include Indigenous songs, drumming in music classes
Include Indigenous traditional food preparation in Home Economics classes
Include Indigenous fabric arts in sewing classes
Study Indigenous art and artists in art classes
Celebrate and support Orange Day every September 30 - ensure students understand the history of residential schools and the sensitive nature of the ongoing generational impact of the residential school system
Celebrate and support National Indigenous Peoples Day every June 21- invite Aboriginal (Indigenous) students to help plan the school's celebration; invite Elders from the community to help plan the school's celebration
Interested in making a commitment to reconciliation? Download this Pledge and pin it to your fridge and share it with your peers & pals.