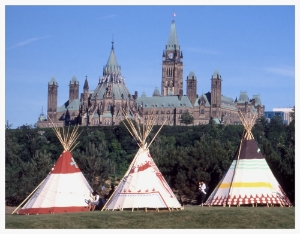 The first thing to know about the Indian Act electoral process is that if you are chief or council, you are elected by your people, but you are accountable to Indigenous and Northern Affairs Canada.

Ever since the arrival of the colonizers and the imposition of their governance systems throughout Canada, the Aboriginal peoples have resisted and struggled to reconstitute their traditional forms of political representation and governance practices, to maintain control of their own affairs, and to have governments be accountable to them. [1]
As stated in the quote above, the imposition of the Indian Act electoral system undermined a tradition of self-governance that had existed effectively for thousands of years. The imposed system displaced traditional political structures and did not reflect, consider or honour First Nation needs or values. It also did not recognize that each Nation had its own style of governance with specialized skills, tools, authority and capacity developed over centuries. It was designed for assimilation – to remake traditional cultures in the image of the colonizers.
Read More