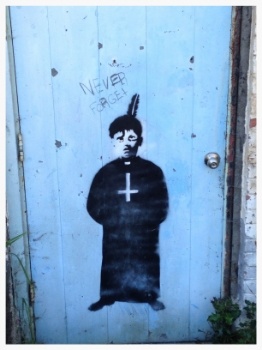 Schools.
Indian Act. R. S., c. 43, s. 1. 1884
11. The Governor in Council may make regulations, which shall have the force of law, for the committal by justices or Indian agents of children of Indian blood under the age of sixteen years, to such industrial school or boarding school, there to be kept, cared for and educated for a period not extending beyond the time at which such children shall reach the age of eighteen years."
And so it began….the most aggressive and destructive of all Indian Act policies. Residential schools brought immeasurable human suffering to the First Nations, Inuit and Métis Peoples, the effect of which continues to reverberate through generations of families and many communities. Other policies were harsh but could be worked around. They banned the potlatch so practitioners went underground to hold ceremonies; they pushed people onto small reserves but they still were with family. But when they took the children that was unbearable.
Read More