Working Effectively With Aboriginal Peoples
®

Book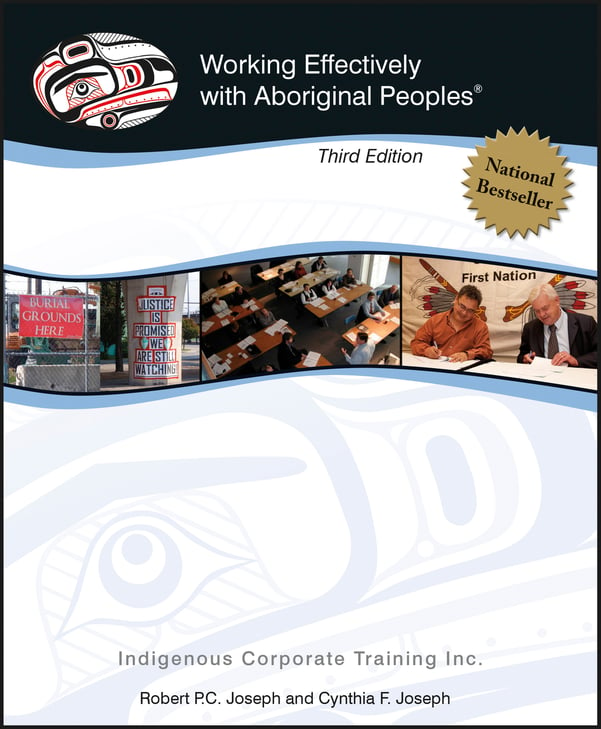 At Indigenous Corporate Training Inc. our mission is to help individuals and organizations work effectively with Indigenous Peoples including First Nations, Indian, Inuit and Métis Peoples. When it comes to fulfilling our mission we literally wrote the book. See Bob Joseph provide some of the content from the book in this Vancouver Board of Trade presentation.
Working Effectively with Aboriginal Peoples® 3rd Edition is full of copyrighted material that has been extensively field tested for over 20 years in workshops with thousands upon thousands of participants. Feedback has been great.
"I really enjoyed your presentation and, within one week, had an opportunity to incorporate some of the information into my work… I modified my approach somewhat to make sure I properly introduced the work and the meeting, indicated that we wanted to identify community-sensitive dates for the site visits and the modified approach also helped to identify key issues that might have represented major insults…Your seminar has also helped us to define, in cooperation with the Band, capacity building components that we have now incorporated into our work program."
L. Wrong • Morrow Environmental Consultants Inc.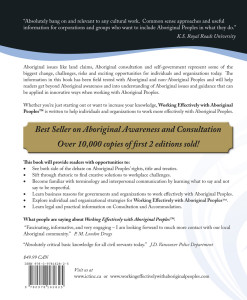 Our goal with the workshops and the book has always been to increase readers' Indigenous awareness and cross cultural understanding, and more importantly, take them a step "beyond Indigenous awareness" to practical hints, tips and suggestions that can be applied everywhere. For example, do you know the best terminology to use when working with Aboriginal Peoples? Should you use Native, Native Peoples, Indian, Indian Tribe, Indian Band, First People, First Peoples, First Nations, Aboriginal or Indigenous Peoples? This book can help you sort through the many different terms in use and give you practical advice on knowing which terms to use when working in this complex environment.
The feedback we have received about the book ranges from, "an easy read" to "it's very helpful", to "I lent my copy out and it didn't come back so I'm ordering another copy."
Bob Joseph, the founder of Indigenous Corporate Training Inc., has provided training on Indigenous Relations and Aboriginal Relations for over 18 years. He has assisted individuals and organizations in building Indigenous Relations or Aboriginal Relations. His Canadian clients include all levels of government, Fortune 500 companies, financial institutions, including the World Bank, small and medium sized corporate enterprises, and Aboriginal Peoples. He has worked internationally for clients in the United States, Guatemala, Peru, and New Caledonia in the South Pacific. In 2006, Bob facilitated a worldwide Indigenous Peoples' roundtable in Switzerland which included participants from the United Nations, Australia, New Zealand, North, Central and South America, Africa, and the Philippines.
Bob has worked as an associate professor at Royal Roads University in their Indigenous Relations program. In addition, he is routinely a guest lecturer at other academic institutions. He has an educational background in Business Administration and International Trade, and is a certified Master Trainer who in May of 2001 was profiled in an annual feature called, "Training: the New Guard 2001" by the American Society of Training and Development (ASTD) in their prestigious Magazine, "T + D". Bob was one of nine trainers selected for the feature from over 70,000 members who come from more than 100 countries and 15,000 organizations.
Bob is an Indigenous person, or more specifically a status Indian, and is a member of the Gwa-wa-aineuk Nation. The Gwa-wa-aineuk is one of the many Kwakwaka'wakw tribes located between Comox and Port Hardy on Vancouver Island and the adjacent mainland of British Columbia. He is an initiated member of the Hamatsa Society and the son of a hereditary chief who will one day in accordance with strict cultural laws become a hereditary chief.
In just some of its pages you will learn:
about Indigenous history from a scientific and cultural perspective – p.9
about Indigenous rights and Indigenous title – p.191
about terminology including: First Nation, Indian, Aboriginal Peoples, Native, Metis, Indigenous Peoples, Inuit – p. 190-196
Free, Prior and Informed Consent and whether that creates a veto for Indigenous Peoples p. 111-115
proven techniques for learning how to pronounce the names of communities – p. 160
27 things to do and 21 things not to do when working with Indigenous Peoples – p. 173
6 colloquialisms to avoid in your communications – p. 163
2 terms you should never use in work – p. 165
insights for determining if gifts are expected and what to bring – p. 157
a key cultural consideration to keep in mind when working with societies – p. 165
one key question you should always ask when meeting Indigenous Peoples – p. 167
2 different ways to do protocol depending on who you are working with – p. 158
We tooks some of the hints and tips from the book and put them into this free e-book. Download a copy and see what you think.
"Fascinating, informative, and very engaging – I am looking forward to much more contact with our local Aboriginal community."
P. Matheson • London Drugs

Shipping via Canada Post regular delivery which can take up to 10 business days.
Refund Policy: Purchasers may return the book within 30 days of delivery if it is in its original condition.