Being the son of an Anishnabe mother and Italian-Canadian father, Flavio has grown up in two worlds, and is honoured for what both have bought him.
Flavio's life has been immersed in all aspects of entrepreneurship, through the operation of many businesses to the training of others to succeed in their ventures and believes that the ability to communicate - whether between individuals or between cultures - will always provide the foundation for success.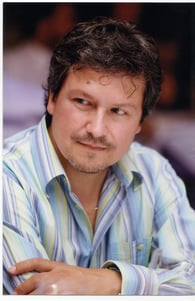 As an entrepreneurship and cross-cultural trainer Flavio hopes that we all embrace the need to understand and be understood. The respect and trust that we strive to achieve in our personal and professional lives comes first and always from understanding.

Contributing to the success of thousands of individuals and organizations – he is honoured with each and every opportunity. Relationship-building is the cornerstone to his training philosophy: where individuals, organizations, communities and Nations learn and prosper through this spirit.
Leading or consulting with projects involving some of the most respected organizations and corporations in the world, Flavio trusts that inspired people - inspired educators - embracing new knowledge and ideas – will always succeed.
Miigwetch!
What learners are saying about Flavio:
Flavio's delivery was perfect for such a sensitive topic. I personally learned a lot during the session and would gladly have listened endlessly. Just since the session, there have been so many relevant references in news and other interest fees, that I feel so much more equipped to understand." J.Britton Chilliwack School District #33
"Flavio delivered a very thorough and effective presentation that was very balanced and informative. I left with a better understanding of Aboriginal Peoples." D. Tam • BC Housing
"I would recommend this training to anyone and everyone I've met. I found it very interesting and informative. It was emotional and also positive and shed light and hope on improving current relationships." K. Liebenberg • BC Housing

"I first saw/met Flavio in 2012 at a semi-annual company meeting. Prior to that, the limited history I had about First Nations People(s) left me with little empathy and understanding and as such, little success in my professional life when interacting with First nations People(s). Flavio's education has changed me. Today's class has changed me – all for the better. I feel enlightened, humbled and better equipped to engage and do business with First nations People(s). Thank you so very much." S. Peters • BC Housing
See Flavio in action here in this short video.