Are you looking for Indigenous Awareness training for your team?
This is the course that started it all for Bob Joseph, a certified Master Trainer, who initially started delivering what was then called Aboriginal Awareness training in 1994. This training was originally developed for the corporate sector and has been extensively field tested with companies, retailers, nonprofits, consulting firms, and all levels of government across the country.
Here's an interview with Ginger Gosnell-Myers, Manager, Aboriginal Relations, City of Vancouver, on the importance of providing Indigenous Awareness training to staff, and on the importance of honouring the Truth and Reconciliation Commission's 94 Calls-to-Action.
Clients choose Indigenous Corporate Training Inc. for their Aboriginal/Indigenous Awareness training needs because they trust our credentials and experience.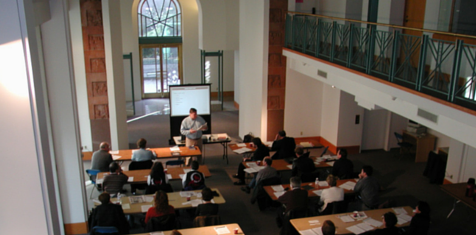 It's available as a three hour, on-site training session and can be delivered on an as-needed basis in a location of your choosing.
Agenda
Historical Background of Indigenous Peoples
Pre-contact
Post-contact
Constitutional, Political and Legal Context
British North America Act, Indian Act, other legislation
Legal decisions
Modern Treaties
Indigenous Self-Government
Indigenous Population
Census
Indigenous Understanding
Terms
Practical Hints & Tips
We work hard to provide a safe environment for all learners who are free to ask questions, make comments, or statements at any time during the Training; time for discussion is included.
We know you have choice when it comes to selecting a trainer so here's a link to an article about what to look for in an Indigenous Awareness trainer to help you out with that choice. Flavio Caron is now the lead trainer on our Indigenous Awareness Training. Here is a short video of Flavio training one of his clients.
Don't hesitate to contact us for more information or a quote or to look for potential dates.