Are you looking for Indigenous Awareness training?
This is the course that started it all for Bob Joseph, a certified Master Trainer, who initially started delivering what was then called Aboriginal Awareness training in 1994. This training was originally developed for the corporate sector and has been extensively field tested with companies, retailers, nonprofits, consulting firms, and all levels of government across the country.
This half-day training presents the historical background of Indigenous relations in Canada and explains how that background impacts contemporary Indigenous issues that affect all Canadians. Participants will gain an understanding of the historical and legal importance of Indigenous Peoples in Canada, as well as gain insight into the reality of many of the misconceptions related to Indigenous Peoples. It is through awareness that reconciliation with Indigenous Peoples is possible. Flavio Caron, our Indigenous Awareness facilitator, addresses difficult topics in a rational, comfortable manner and encourages participants to ask questions.
Here's an interview with Ginger Gosnell-Myers, Manager, Aboriginal Relations, City of Vancouver, on the importance of providing Indigenous Awareness training to staff, and on the importance of honouring the Truth and Reconciliation Commission's 94 Calls-to-Action.
People and Organizations choose Indigenous Corporate Training Inc. for their Indigenous Awareness training needs because they trust our credentials and experience.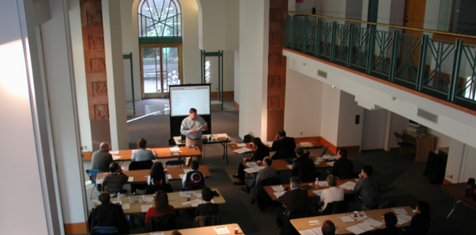 It's available as a three hour on-site training session, or three hour webinar training session, or a 1 month online access training program for individuals or teams. Which ever option you choose, the information provided will be the same.
Agenda
Historical Background of Indigenous Peoples
Pre-contact
Post-contact
Constitutional, Political and Legal Context
British North America Act, Indian Act, other legislation
Legal decisions
Modern Treaties
Indigenous Self-Government
Indigenous Population
Census
Indigenous Understanding
Terms
Practical Hints & Tips
We work hard to provide a safe environment for all learners who are free to ask questions, make comments, or statements at any time during the Training; time for discussion is included.
FAQs:
1. If I take Indigenous Awareness training do I also need to take Working Effectively with Indigenous Peoples®?
It's not a precursor to Working Effectively with Indigenous Peoples®. If you want to learn how to work with Indigenous communities, then you should take Working Effectively with Indigenous Peoples®, instead of Indigenous Awareness. Indigenous Awareness is our very basic introductory course provided only on site for clients whose team is looking for some understanding of relationships with Indigenous Peoples, but is not directly working with communities or Indigenous individuals. Whereas Working Effectively with Indigenous Peoples® is our foundation course that we recommend starts everyone's learning journey.
If I take Indigenous Awareness, can I take Indigenous Consultation & Engagement, How to Negotiate with Indigenous Peoples, and Creating an Indigenous Engagement Plan?
If your ultimate goal is to learn how to work with, consult with, negotiate with, and engage with Indigenous communities, then you should take Working Effectively with Indigenous Peoples®, instead of Indigenous Awareness, as that is a precursor to those courses.
How long is Indigenous Awareness?
Three hours.
Can individuals take this course?
Yes. You can email maaria(@)ictinc.ca
We know you have choice when it comes to selecting a trainer so here's a link to an article about what to look for in an Indigenous Awareness trainer to help you out with that choice. Flavio Caron is now the lead trainer on our Indigenous Awareness Training. Here is a short video of Flavio training one of his clients.
Don't hesitate to contact us for more information or a quote or to look for potential dates.