A quick search on Google for "Indigenous awareness trainer" resulted in 67,500,000 results. So, what criteria does one use when trying to choose someone to deliver Indigenous relations training to your team? Here are eight aspects that should figure prominently on your checklist.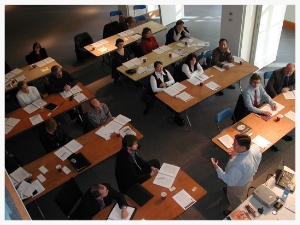 1. Are they certified? This shows they know how to train. Experience alone isn't enough - you need proper training skills.
2. Do they offer a program that includes a needs assessment? The training should be tailored to the needs of your team. There is no point in having your staff sit through a session heavily weighted with the legal rights of Indigenous Peoples, for example, if you are looking for cultural awareness training for your front end staff.
3. Do they offer a well-researched, fact-based program? It's imperative the "elephants" in the room are discussed in a non-threatening way. If the history of a difficult issue is presented factually it affords the opportunity to show solutions in a different light. Ask to speak to some alumni from past training sessions or to see past training session evaluations.
4. Do they offer a program that deals with contemporary Indigenous issues, such as economics, education, social conditions, treaties, taxation, self-government and land claims? Does the trainer cover the historical and legal importance of Indigenous Peoples in Canada so that participants fully understand the contemporary Indigenous issues that affect Canadians, Indigenous and non-Indigenous?
5. Are the facilitators professional, experienced and well-versed and comfortable with the subject matter? It makes a difference if the facilitators are Indigenous because if they are, they will be able to share their experiences and provide a perspective that would not be possible from a non-Indigenous person. Can they deliver the material in an engaging style that resonates with both CEOs and blue collar workers?
6. Do they have good resource materials that can be used in the session and then as reference tools? Well researched and written handouts or workbooks that support the training are invaluable for participants to take home as reference materials.
7. Will they come to your worksites or a location of your choosing? Participants feel more comfortable learning about Indigenous issues and challenges if they are comfortable in the setting.
8. Is training a business for them? Or is it a corner of the desk sideline in case an opportunity comes along.

Training is our core business, we have a qualified, experienced team, our material is expansive, well researched and presented in an engaging, unique fashion. Participants receive a workbook and are invited to download our free eBooks, and subscribe to our monthly Indigenous Relations Bulletin (6,000+ subscribers) which contains the most recent articles from our blog, our public Indigenous Relations Training Week events, related legal articles, and mainstream, trending news articles.
We are very flexible in the options available to our clients - we offer our training in a number of formats: public, private, webinar, and eLearning,