Are you ready for your next Indigenous Community Meeting?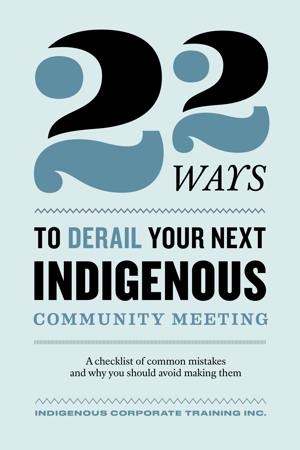 Read this ebook to learn about some common mistakes made during meetings in Indigenous communities. Some of these mistakes are quite obvious, some more subtle. It's important to avoid them all if you want to develop a good relationship with an Indigenous community.
Inside you will learn:
when to start the meeting (hint: it has nothing to do with your schedule)
what not to do during the meeting
how not to wrap up the meeting
plus 19 other tips
Please share with colleagues, family and friends - we don't mind because we believe that by sharing knowledge and information through our training, blog and free resources we can make the world a better place for Indigenous and non-Indigenous people.