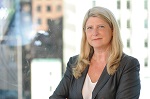 As Chief Diversity Officer, Jane is responsible for coordinating the efforts of firm leadership, human resources and service lines — and providing necessary support and tools — to successfully achieve Deloitte's diversity vision.
Jane is also a Partner in the Toronto office of Deloitte. She is the leader of the firm's power and utilities practice, serving clients in Canada and internationally. Jane has more than 20 years experience in the energy sector, and has led engagements for major energy companies in the area of business strategy, organizational restructuring, operational improvement, and management of information systems.
Jane is a frequent speaker at industry conferences, and recently collaborated with the Energy Council of Canada to conduct a survey of talent management issues in the energy and resources sector in Canada.
Prior to joining Deloitte, Jane was a senior policy advisor with the Ontario Ministry of Energy, responsible for conservation and renewable energy policy, and with the Ontario Women's Directorate, where she was responsible for programs to advance women in business. She was also Assistant Dean at the University of Toronto's Faculty of Management.
Be sure to read the report by Jane Allen called "Widening the Circle for Aboriginal People".