On November 27, 2014, we were very honoured to have Karey Brooks and Jeff Langlois of JFK Law Corporation partake in a webinar on the recent Tsilhqot'in and Grassy Narrows court cases. We've had lots of great feedback from those who sat in on the webinar.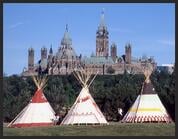 We are pleased to be able to share Karey and Jeff's power point slides which are full of valuable information about these two groundbreaking Supreme Court of Canada decisions on Aboriginal rights and title.
Their presentation helped clarify the key findings of the law, including the extent and scope of Aboriginal title, the duty to consult, and the role of the Provinces in establishing laws over the land base, both on treaty and non-treaty lands.

Would you like a copy of the slides used in the video presentation?