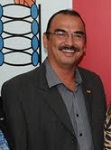 Joe Thompson is an Aboriginal professional with several years experience advising individuals and organizations on Aboriginal employment. Joe is a member and co-founder of MAHRS and has been involved in this committee since 2004. The ability to make a difference is what motivates him in moving this forward. He believes more than ever before in the need for Aboriginal Human Resources practitioners.
Joe is currently an Aboriginal Partnership Specialist for Manitoba Hydro focusing primarily on partnerships, recruitment and retention of Aboriginal peoples. Prior to his current role Joe was employed by the Royal Bank for 10 years and 3 years as a Manager of Personal Banking.
Joe's interest includes human rights, employment equity and the betterment of Aboriginal people. Joe believes in giving back to the community and has been part of numerous boards and committees.
Speaking on behalf of the Manitoba Aboriginal Human Resource Strategists, Joe explains to wewap the why he and a group of other Aboriginal human resource professionals formed this unique forum.
What is MAHRS?
We are a non-profit organization, 100 per cent Aboriginal membership that was formed as a support group for Aboriginal HR practitioners. The Aboriginal-only membership is important because we want to ensure that decisions regarding MAHRS are made from an Aboriginal perspective.
Who are your members?
We are all Manitoba based, Aboriginal, human resource professionals. We originally met every month but that became too much so a core group of us meets every month and we have about 70 members on our mailing list. Our membership consists of corporations, organizations, unions, government and non-profit organizations.
Why was MAHRS formed?
In 2003, a group of Aboriginal public and private sector professionals, working to enhance Aboriginal participation in Manitoba's workforce realized there was a great void in education/certification, information or support available for Aboriginal HR officers, consultants, and managers. There was nowhere for us to go to learn, to talk openly without repercussions, discuss systemic barriers, common challenges, promote Aboriginal employment and to share insights. We wanted to have a forum that met these needs.
How did the partnership with University College of the North (UCN) come about?
We started as a discussion and support forum but we soon realized that because our membership represented over 200 years of combined HR experience we should find a way to share this with other Aboriginal HR professionals. We developed a set of professional standards that integrates traditional practises in relation to recruitment, retention and advancement of Aboriginal staff. We also developed an Aboriginal Employment Strategy manual based on our insight and discussions. The UCN heard about us and approached us to work with them to develop criteria for an Aboriginal human resources program on its Thompson and The Pas campuses - I believe the first of its kind in Canada. It started as a one year program but has now been expanded to two years. The University of Manitoba has also been in touch with us to work with them on a similar program.
What are the next steps for MAHRS
We are working with non-profit and grass-roots Aboriginal organizations as we see a real need in those groups for HR guidelines to follow. We are also getting a lot of calls to present at conferences. What we really need though is to develop a website but we don't have any funding at this point so it's a challenge. Things are really snowballing, which is good, but we all have full time jobs so we move carefully with new initiatives because we want to be sure any new direction we go in is sound and within our original perspective.
What is the best piece of advice you can offer to organizations regarding their Aboriginal human resource strategies?
If you are looking at increasing your recruitment or to improve retention, then you must hire an Aboriginal person to do that job. And, you have to provide support and resources so they can be successful in managing your organization's Aboriginal human resources.
If your interest area is First Nation employee retention, you might enjoy this article: 7 First Nation Worker Retention Strategies
Our free, weekly newsletter has lots of information on Aboriginal human resource strategies. Sign up now and if you decide later that you no longer want to receive the newsletter, we make unsubscribing easy peasy.