How does a smallish nation with big goals raise the required funds? They hold a fund raising Gala, invite big names to participate, add in an auction of First Nation art, and invite their business partners and neighbors to enjoy an evening of fine dining and fun.
The Malahat Nation, on lower Vancouver Island, held their second annual fund raising Gala on November 1. The theme for the event was "Shoot for the Moon; Catch a Star" and the Host Committee built the program around that theme. Over 300 people attended, the venue was sold out, and everyone had a fabulous time.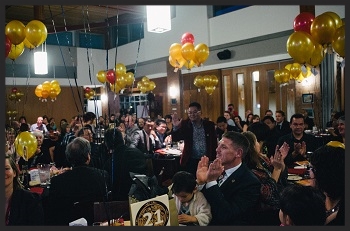 Astronaut Dr. Robert Thirsk was the keynote speaker; he spoke about being in grade three and watching the first man step on the moon and knowing at that moment that that was what he wanted to do. He spoke very passionately about education, encouraging youth to have goals and to support them every step of the way as they pursue those goals. Crystal Shawanda, a star from Nashville, performed songs from her new album. Bob McDonald, host of CBC's Quirks & Quarks, and author of a newly released book on space walkers and astronauts was the auctioneer.
The funds raised at the Gala are to develop and deliver cultural and educational programs at the Nation's new Kwunew Kwasun Resource Cultural Centre. The Centre was built in 2013 as part of the Lieutenant Governor of BC/Rotary Literacy & Community Building Projects. It's a beautifully designed and built library and meeting centre - it's a prime example of businesses and First Nations collaborating on a project that will be a legacy for generations.
The Malahat Nation reached out to local artists and asked them to donate pieces of their work for the auction. It was a great way for the artists to get some otherwise unreachable exposure. Bob McDonald did a fine job of impersonating an auctioneer and had the crowd digging deep in their pockets to be the winning bid.
If you are invited to attend and/or support community initiatives such as this consider accepting and asking if you can assist with the planning as well as with the financial aspect. One Malahat sponsor and neighbor, rolled up his sleeves and spent four hours on the day of the event blowing up balloons with the Malahat Helpers - personal commitment and involvement is a wonderful way to connect with and get to know a community.

The Malahat's bid to become a big, bold and beautiful Nation is respected and supported by their business partners, surrounding community and neighbors. It's a great "the little Nation that could" sort of story.
How did the Malahat Nation create a sold out Gala?
They:
Thought big in terms of keynote speakers and entertainment (for their inaugural gala they had Adam Beach)

Set a goal

Set realistic sponsorship levels

Invited the community

Invited their business partners

Reached out to local artists

Worked hard
If education and employment of Aboriginal people is your area of interest, here's some information on BC Hydro's very successful Aboriginal Education and Employment Strategy.