Disasters know no bounds. Planning for them should also know no bounds but the sad fact is that in terms of emergency response planning, Indigenous communities are frequently left out of the planning process. Communities are holders of traditional knowledge that is as old as time itself of that area and are stewards of the land therefore it is critically important to them that effects of disasters are mitigated.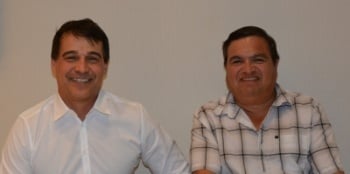 Dion Arnouse (L) and Wayne Schnitzler (R), 2Badgers Consulting Inc., work with communities to ensure they have an emergency response plan for natural and man-made disasters. Their clients are the oil and gas industry and Indigenous communities. For their oil and gas clients they engage with the communities along the proposed pipeline route for their input on an emergency response plan specific to that community. For their Indigenous clients they assess and collaborate with the community on a plan that is tailored to that community in terms of capacity and preparedness.
Dion and Wayne are uniquely suited to this work. Dion is of First Nation heritage and is a former RCMP officer while Wayne is of Métis heritage and is a former fire chief. Collectively they have 60 years of experience in emergency situations so they know a thing or two about the need for communities to have plans in place.
What is your approach to emergency preparedness assessment for an Indigenous community?
We are both of Indigenous heritage so that helps right at the beginning. Outside agencies often don't understand the reality that exists on so many reserves in terms of housing, poverty, infrastructure challenges etc. We understand and respect that each community has a unique situation, needs and concerns.
The first component is developing respectful Indigenous relations with the community - relationship building is so important. We don't go in there with a plan all worked out. We ask for their input so that they are part of building the plan. We work collaboratively with them to develop plans that protect the people, the environment and areas of cultural sensitivity. Their concerns lead the planning process. They are the experts in their area because they have always been the stewards of their land.
We work with them to assess where they are in terms of preparedness and then work with them to help them build up their response capacity by providing guidance by recommending training or equipment that suits their needs. Overall, we increase their culture of safety.
What if a community doesn't have the financial capacity to fit out all the buildings with smoke alarms, fire extinguishers or purchase emergency response equipment?
In that case we work with them to re-engage with or form a relationship with a neighboring municipality or community that does have the resources so that they become part of the unified process of dealing with an emergency situation. People and communities have to reach out to and rely on one another and develop a unified plan. Emergency situations require affected communities to open up, share resources and work together; there's no time to consider municipal or territorial boundaries. We deliver the message that bigger is better than trying to go alone against a large scale incident.
What have you discovered in terms of the history of emergency planning in Indigenous communities?
We are finding that our visit is often the first time they have had a one-on-one conversation with experts such as ourselves. So, when we sit down and explain what we're doing and start planning with them we see their anxiety level go way down. We are able to dispel a lot of rumours that have been circulating about companies not having any emergency response plans.
Historically, Indigenous communities have been left out of the emergency planning process; they were always the last to know. This collaborative approach is the opposite of what most communities experience. For them to realize that their input is required and valued is huge.
What engagement tips do you have for people in any walk of live who want to Work Effectively with Indigenous Peoples©?
Conduct a self-assessment of your skills, ability and cultural competency. Do your skills fit the scenario you are going into? Whenever I meet someone whose cultural competency is low I recommend they take Bob's course.
Conduct a personality and cultural competency assessment of the person tasked with Indigenous engagement on behalf of your company. Have they ever worked with an Indigenous community before? Lots of people don't understand the gravity of that first meeting, which could also be the last meeting if things don't go well. Saying or doing the wrong thing in that first meeting can delay projects, or take years to reset the relationship or worse case scenario it may never reset.
Do your homework. Communities differ in capacity so adjust your engagement accordingly.
Realize that the time chief and council have available to meet with you is constrained. Have your experts there at the table to answer all their questions because it could be a long time before you can get another meeting.
Here's a link to Dion's bio - be sure to read his interview and watch his presentation on Aboriginal Industry Engagement - he has some great tips and insight.
Wayne Schnitzler has over 20 years experience in working with First Nations Emergency services delivering fire training, fire chief workshops and working with local government on fire prevention initiatives. He began his career as a volunteer firefighter in Surrey in 1979 and worked his way up to Captain of Training before being hired as Fire Chief for Westside in 1996. His district included Westbank First Nation. West Kelowna named him Citizen of the Year in 2009. When he retired in March 2015, the mayor thanked him in particular for his "leadership and strength" during forest fire emergencies. Wayne was "retired" for all of one day before joining Dion at 2 Badgers.
Here are two ebooks for you with more tips on Working Effectively with Indigenous Peoples© - just click the book icon to begin your download.