When developing your Indigenous Procurement Strategy one of the services you might consider including are the services of an Indigenous caterer. Or, for that next meeting with your shareholders, consider having it catered by an Indigenous chef - you will make a statement that supporting Indigenous culture is part of your corporate culture.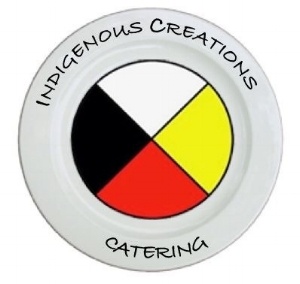 As in other cultures, Indigenous recipes are passed from generation to generation. However, the transfer of recipes in thousands of Indigenous families was broken by the residential school system. The children were taken from their families and communities, often at a very young age, and raised in the schools on European foodstuffs. They were alienated from their culture and home food - a significant and impactful disconnect that extends over many generations.
Indigenous Peoples were also denied their traditional foods other ways. Crucial food sources, such as the bison, were hunted to close to extinction by the Europeans which not only denied the traditional hunters the ability to feed their communities, but also denied them material for clothing, dwellings and tools.
But, there is an exciting growth in Indigenous cuisine in Canada. Indigenous chefs are reviving family recipes, and developing new recipes that combine traditional foods with new ingredients. Whereas one could formerly find food from every corner of the world except from the original inhabitants of Canada there are now restaurants, food trucks and caterers offering Indigenous meals.
I had the opportunity to talk with one such Indigenous caterer, Robin Willier, owner of Indigenous Creations Catering, based in Port Moody, BC.
Why did you want to start Indigenous Creations Catering?
I've always enjoyed whipping up food for friends and family; I've worked for caterers and in restaurants; and enjoy preparing and serving food so it seemed like a logical step. Around Vancouver it seems as though not many people know about, or have tried, Indigenous food so I want to help expand their culinary experiences. I've developed some signature dishes, and have some of the basics too.
Why a catering business and not a restaurant or food truck?
The overhead involved with restaurants and food trucks puts them out of my reach. Also, as a caterer I can create unique atmospheres for my clients. I think a meal should be about more than the food - there should be some cultural sharing that explains the food. I want my clients to experience some Indigenous culture as well as enjoy my food. Depending on the event, I will invite an Elder to bless the food or I can also have a dance presentation. I'm working with Alex and David Wells, well known hoop dancers, who will perform at some of the functions I cater.
What was your favourite food when you were growing up?
Bannock! That was the food that we all got excited about and we still do. It's a traditional food originally made from ground roots instead of flour. If you think back to when our ancestors hunted and gathered what they ate the food was simpler and people were more appreciative of having something to eat. Now you see it with eggs and milk but I like to stick to the basic ingredients. It's a simple food that nourishes the soul and it's incredibly versatile. You can do just about anything with bannock as your base.
Learning about a culture goes deeper than what you read in a book or watch on a screen. You have to experience a culture and what better way than experiencing Indigenous cuisine? So, keep your eye out for an Indigenous restaurant, food truck and think about hiring Indigenous caterers for your next big event.
If you would like to receive our monthly newsletter that features our latest blog articles, Training Week information and career opportunities, click the button below.
Want to learn more? From subject matter experts? Click the image below to learn about our courses, prices and if we'll be in a city near you.
Indigenous Corporate Training Inc., provides information on this blog for free as a resource for those seeking information about Indigenous Peoples in Canada. Readers looking for more detailed information, or who have questions, can sign up for our fee-for-service training. Also, ICT encourages everyone who reads this information to use their best judgment given their own circumstances, vulnerabilities, and needs, and to contact a consulting or legal professional if you have more specific questions. Join the conversation over on our Linkedin page.