Gordon Mohs leads Aboriginal business development, community relations, policies and protocols for EBA Engineering, a Tetra Tech company, a position he has held for three years.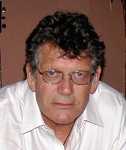 Prior to this, Gordon led work in Aboriginal Title and Rights and Economic Development for the Sto:lo Nation for 14 years, the Sts'ailes (Chehalis Indian Band) for 9 years, and the Alliance of Tribal Councils (38 First Nations from Valemont to Vancouver, along the Thompson and Fraser Rivers) for 5 years. Gordon has a background in anthropology and archaeology and, among other things, was the first academic in Canada to do a thesis on Aboriginal sacred sites. Gordon has championed the recognition of Aboriginal spiritual sites and is largely responsible for the designation of Xa:ytem (pronounced Hi-AY-tum), a Sto:lo spiritual site, as a National Historic Site.
Here's a Q &A with Gordon from our newsletter.
Download our Guide to Terminology - it's Free!