Not bad Aboriginal employment stats for an association that was formed just over three years ago. The BC Aboriginal Mine Training Association (BC AMTA) is a unique - and obviously very successful – training model that provides training and support services to Aboriginal participants for careers in the mining industry.
Mining and mineral exploration in Canada are the largest private sector employers of Aboriginal men and women, and the sector, it is estimated, will require 145,000 new workers by 2023. The First Nation population is growing at a much higher rate than the non-Aboriginal population (almost 23 per cent compared to 5.2 per cent for non-Aboriginal population) and the First Nation population is much younger than the non-Aboriginal population with a median age of only 26. Couple those facts with the fact that "approximately 1200 Aboriginal communities are located within 200 km of minerals and metals activities in Canada." (Source: Natural Resources Canada) and you see why it's an obvious match.
In BC, it is an even more obvious match with 21 major mines, over 30 industrial mineral producers, 2 smelters, over 350 exploration projects and close to 200 First Nation communities - which gives BC AMTA the opportunity to be the mother of all match makers.
One of the keys to the success of BC AMTA programs is that the lack of grade 12 is not a deterrent to training. Candidates take the TOWES Assessment (Test of Workplace Essential Skills) which assesses their skills for an entry level position. If their skill set does not meet entry level requirements, a coach and teacher works with them to bring them up to the level required for the position they are interested in.
Participants can either choose to earn a certificate via the Pathways2Success route or choose the one-to-five year apprenticeship program. Those who choose the apprenticeship program, upon completion, are "Red Seal" certified which means they can work anywhere in Canada. Coaches then work with the participants to develop a resume and build interview skills. Elders are also part of the program – they are there to provide spiritual and emotional support for the participants, especially on interview days.
The other keys to the success are the partnerships BC AMTA has formed with industry and education providers. Through their partnership with industry, BC AMTA matches participants with skills' training that is directly needed by industry – and that is possible because the industry partners keep them informed about the types of jobs they need. Their education partners provide the venues for the training in five locations. It is a skills' delivery model that can be scaled to fit any situation.
BC AMTA fast facts:
65% transitioned from unemployment
1570+ candidates registered
150+ First Nations represented (122 are BC based First Nations)
43% under age of 35
Michelle Nahanee, Marketing and Communications Specialist, recalled one graduation ceremony in Williams Lake in which each of the 38 graduates stood up and expressed their heartfelt gratitude – even though public speaking was an ordeal for some. "It was a day that also included eight interviews with Taseko Gibraltar so the day started with a prayer, song and smudging ceremony. For the graduation, the gym was packed - there were lots of family and community members there to share the moment. It was a very emotional day."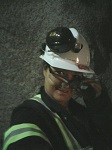 Mary Brearley, a BC AMTA graduate and Mill Processor Trainee, says the program and ensuing job has changed, not just her life, but also that of her sons, in a big way. "It's not just about the pay cheque – which has made a huge difference because now when my sons need something I can buy it for them and I don't have to always get the cheapest version but I love my job because I learn every day; I feel like I've done something good when I leave at the end of the day. It's about how my nine year old son sees me – he said when he grows up he wants to be like me – I was working underground at the time so that probably had something to do with it! It's like this – life kept sending me lemons but BC AMTA gave me the baseball bat to send them all back."
A higher recommendation cannot be imagined.
Here's a presentation by Laurie Sterritt, CEO, BC AMTA that you may enjoy "Creating Economic Health through Partnerships Training Employment"
If your area of interest is human resources, recruitment and retention, our newsletter frequently features articles on these topics.